WWE In Your House 3: Triple Header
Primer PPV de WWE en las Monday Night Wars. El Main Event tuvo inéditamente todos los títulos de la empresa en juego.
Primer WWE en la Monday Night War
Llega el primer PPV de WWE, ¿podrá superar a Fall Brawl? Lo analizamos en la siguiente nota:
In Your House 3: Triple Header. 24 de septiembre de 1995: Saginaw, Michigan.
Vince McMahon, Jerry Lawler y Jim Ross nos dan la bienvenida.
Savio Vega vs Waylon Mercy.
Tan importante es este combate que en medio de sus 7 minutos van a un contacto con Dok Hendrix que cuenta que Owen Hart no ha llegado al recinto. Y bueno, es entendible, porque el match es bastante corneta. Mercy tiene todo la pinta de ser un tremendo paquete y Vega a pesar de su entusiasmo no resalta del todo en este enfrentamiento. Desechable, más aún cuando Mercy venía invicto y pierde como si nada.
Valoración: 1 jumbito.
Nos vamos a backstage donde vemos a Jim Cornette, Mr. Fuji y Yokozuna hablando con el presidente de la empresa, Gorilla Monsoon sobre lo de Owen.
Sycho Sid (con Ted Dibiase) vs Henry O. Godwinn.
Esta rivalidad empezó en Superstars, con Godwin tirando su balde de comida o vomito de cerdo a Sid, haciendo lo propio contra Dibiase en un Raw.
Lucha más lenta que un bolero pero que por lo menos intenta contar algo, con Sid apuntando sus ataques a la espalda del granjero. No obstante de una forma muy pajera. El mini comeback de Henry prendió algo a la gente pero termina sucumbiendo en las trampas de Dibiase y pierde tras una Powerbomb. Algo salva.
Valoración: 1 jumbito y medio.
En el post match aparece Bigelow a atacar a Sid (ni idea el porqué), Kama sale en ayuda de los heel, Dibiase se distrae y recibe esa asquerosidad que lleva Godwin en su balde. Diversión pura.
Volmemos a backstage en donde Monsoon le dice a Cornette que la lucha va igual y Yoko deberá buscarse una pareja.
The British Bulldog vs Bam Bam Bigelow.
Esperaba más y me terminó decepcionando. Y aunque hay un amago a un limbork de Bulldog  a BBB llamativo, resulta un poco insulso por la forma en que se lleva el combate y porque tampoco fue algo muy potente, lo que demuestra que no todo lo que es limbowk resulta bien. Más aún cuando no hay fluidez. Igual resulta algo un poco, solo un poco, mejor que las anteriores luchas.
El británico se lleva la victoria con un Running powerslam.
Valoración: 1 jumbito 3/4.
Dean Douglas (con Bob Backlund) vs Razor Ramon.
http://www.dailymotion.com/video/x4unb5b
Lo mejor del PPV.  Lo que tampoco es mucho decir…
Parte muy bien, con Razor queriendo acabar con su rival desde el primer instante, generándose un  pequeño brawl. Tras eso secuencias de estudios que encontré innecesarias para lo que querían plantear o se debería haber planteado. Tras varios pasajes así la cosa se pone mejor cuando Douglas empieza a atacar la espalda de Ramon, con los comentaristas dando relevancia a ese hecho y las pasadas complicaciones que tuvo el "machismo". Ahí todo nice, con un buen selling de Ramon.
No obstante en su comeback descuida ese aspecto, pequeños detalles que al final molestan un poco. El desenlace aún más,  con el árbitro quedando ko, Ramon logra hacer el Razor Edge pero aparece 1-2-3 Kid y hace un conteo de tres. El ex campeón IC lo echa cagando del ring lo que aprovecha Douglas para agarrarlo de las truzas para llevarse la victoria. El final le quita puntos.
Valoración: 2  jumbitos y medio.
Razor Ramon y Kid se agarran hasta que llega gente a separarlos.
Promo con HBK y Diesel quienes lamentan la ausencia de Owen pero que le harán frente al que venga.
Bret Hart  vs Jean-Pierre Lafitte.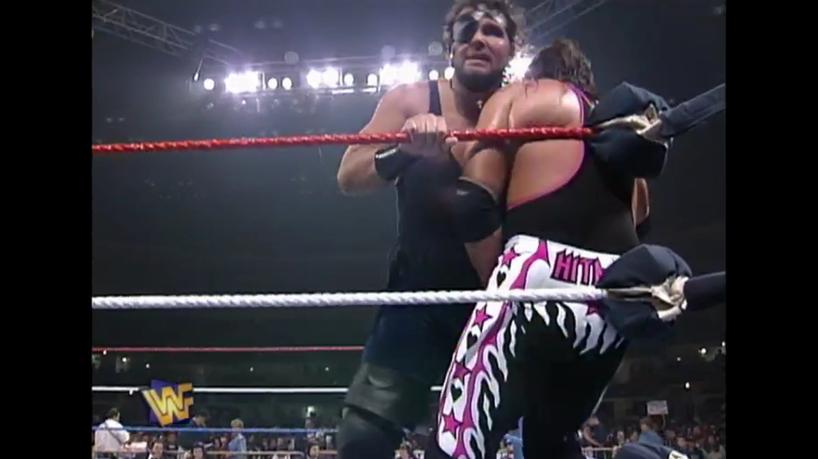 Cómo será de penca el pirata que su entrada no la muestran al principio y parte ya estando sobre el ring.
La rivalidad empieza cuando Lafitte le roba unos lentes característicos de Bret a un niño en la grada (al cual se le cae una lágrima)  y luego sustrae una chaqueta al propio Hart.
No es un mal combate, pero no sé, le faltó historia. Dominio heel, comaback face, domino heel, comeback face, todo de forma muy estructurada y poco natural. Además el final me resulta poco llamativo, con Bret sacando el Sharpshooter de la nada. No sé, me ha dejado frío, a pesar de contar con un buen público y que el pirata le ha puesto ganas.
Valoración: 2 jumbitos.
Después de una intensa búsqueda, donde conversó con varios (entre ellos Mabel), Cornette ya tiene al reemplazante de Owen: el Bulldog.
Alundra Blayze sale a promocionar la polera del main event, lol.
Diesel y Shawn Michaels vs Yokozuna y The British Bulldog (con Jim Cornette y Mr. Fuji), WWE Championship, IC championship y Tag Team Championship.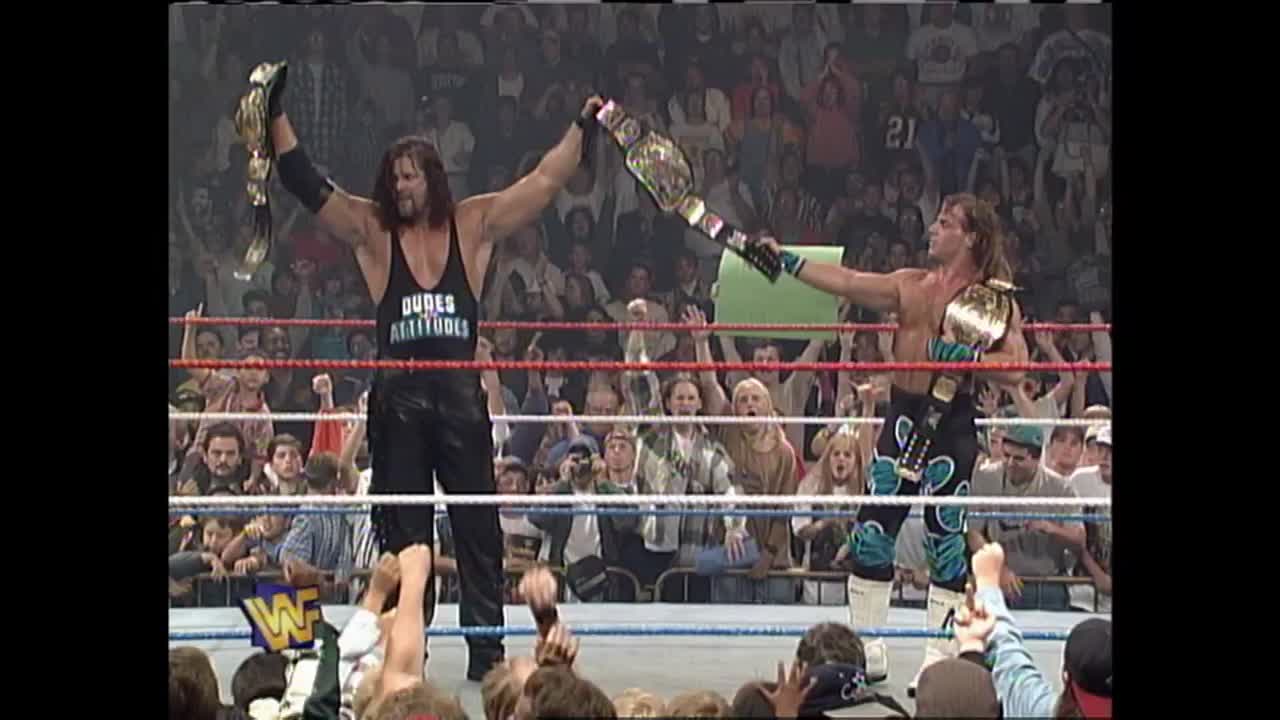 Decepcionante main event, con la siempre vieja confiable (lo que no resalto como algo positivo) estructura tag de WWE. A veces resulta -y para bien- como en el caso de la lucha del Raw pasado, pero acá no mucho. Se nota la improvisación que significó el tag campeón por una noche, y lo obvio de Michaels siendo el underdog para que Diesel limpie la casa.
Pero lo peor no está acá sino en el final. Aparece Owen, se come el bombazo y más encima termina recibiendo el pin. ¿Pero qué carajo está pasando acá? No entiendo nada… Y bueno, tenemos nuevos campeones en pareja y a pesar que Vince se esmera en defender lo sucedido, la huea termina siendo muy confusa.
Valoración: 1 jumbito y medio.
Evento ahí no más, que pierde mucho sin Owen porque junto a Yoko de lo que he visto se complementaban muy bien. El main event es malo y el resto no tiene nada realmente memorable. En general, sin pena mi gloria.
¿Veredicto?
Septiembre tuvo a Fall Brawl e IYH 3, dos PPV más malos que buenos, por lo cual se hace complejo elegir un lado. Por eso, analizando los jumbitos y porque en el de WCW puso un -1, gana raspando el de WWE.
Primer PPV de la guerra:
WWE: 1
WCW : 0
También te puede interesar