Resultados Monday Night RAW 11.01.2021
Nueva edición de RAW tras su show de leyendas que esta vez contó con la aparición del asesino cerebral y COO de la compañía Triple H.
La ñata más famosa de WWE aparece para darnos la bienvenida a esta edición de Monday Night RAW, pero antes de que pueda decir algo Randy aparece para interrumpirlo. Ambos hablan sobre la ausencia de McIntyre debido al Covid. Triple H elogia a Randy por su decisión de quemar a The Fiend, pero menciona estar en desacuerdo con sus múltiples ataques a leyendas como Shawn Michaels y Ric Flair. The Viper reta a Triple H, pero Hunter se niega aclarando que él no gana nada con esto salvo por el hecho de robar cámara. Orton se mete con Stephanie y tenemos evento estelar, seguramente fue por las circunstancias y no había otros luchadores a quienes darles exposición.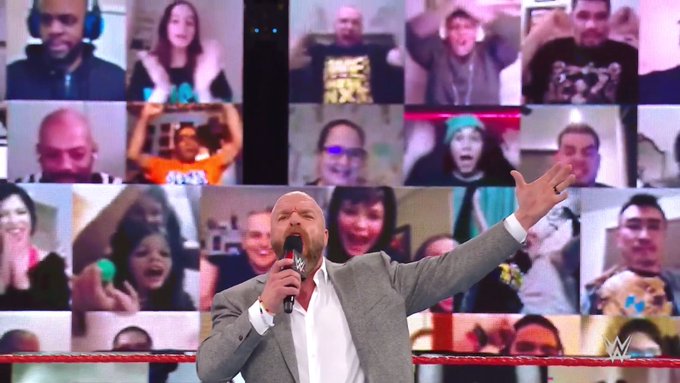 ¿A Lacey le gustan mayores como Mele?
Primer encuentro entre mujeres de la velada entre Lacey Evans quien al parecer ahora tendrá gimmick de gerontofilica y Charlotte, la lucha no es nada del otro mundo, pero por lo menos Charlotte ha mejorado en cuanto al limbwork previo a la sumisión. Finalmente Ric Flair interviene a favor de Lacey para nuevamente darle la victoria ante su hija.
Jeff vs Elias nuevamente en RAW
Elias llega para dar la triste noticia de que no podrá luchar esta noche, pero en su lugar tendremos a Ryker. Roll-up de Ryker con ayuda de Elias y a casa. Tras este payaseo Elias sube para encarar a Jeff en el segundo encuentro al hilo para Hardy. Finalmente Hardy logra conectar su Swanton Bomb para llevarse la victoria. WWE debe comenzar a dejar de hacer este tipo de choques uno enseguida del otro, no tiene ningún sentido que pierdas durante el primero pero ganes el segundo cuando deberías estar más cansado que tu rival.
De retador al título mundial a luchar con peleles
Lucha por parejas donde Sheamus se uniría a Lee para enfrentar a los peleles Miz y Morrison. Sigo sin entender la forma de bookear por parte de los escritores de WWE. Lee viene de luchar de igual a igual con el campeón y lo pones contra dos luchadores que pierden hasta con los jobbers… Finalmente Sheamus se roba el relevo y conecta su Brogue Kick sobre Morrison para la victoria.
Continúan los problemas entre Sheamus y Keith Lee
Tras los comerciales Lee y Sheamus discuten por lo que ahora tenemos un mano a mano entre ambos gladiadores. No sé cuantos meses llevamos viendo a estos dos luchando sin llegar a un PPV, siento que su rivalidad ya se ha vuelto tediosa. Finalmente Lee logra cerrar su Spirit Bomb para la cuenta tres en un gran enfrentamiento por parte de estos dos.
McIntyre a carrear viejos en Royal Rumble
Tenemos un video de McIntyre hablando sobre lo ocurrido la noche anterior con Goldberg quien lo retó a una lucha titular en Royal Rumble. Drew asegura que incluso en sus mejores años no podría vencerlo, por lo que acepta su reto. ¿Dios, hasta cuando van a seguir robando con Goldberg?, el tío con trabajos y puede subirse a su auto sin sudar… claramente Drew no es del agrado de alguien en especial si tomamos en cuenta los rivales que ha tenido desde que es campeón como Lashley, Dolph o Randy.
Retribution vuelve a encontrar la victoria
Encuentro de relleno entre Xavier Woods y T-Bar donde el miembro de Retribution logra poner en múltiples problemas a Woods, siendo honestos este es el tipo de enfrentamientos que deberían hacer dándole exposición a luchadores como Woods quien generalmente se encuentra en la división tag. Finalmente T-Bar conecta a Woods con su variante de Inverted Fireman Carry Takeover para la cuenta tres.
Lashley retiene su campeonato ante Riddle
Combate titular entre Bobby Lashley y Matt Riddle, Lashley ataca al Original Bro antes de que suene la campana, una vez comenzada la lucha el miembro de Hurt Business domina al ex MMA con mucha facilidad. Finalmente Lashley cierra su Full Nelson para retener su campeonato el push de Riddle más falso que los billetes de JBL. Finalizada la lucha Riddle reta a MVP a una lucha que termina en descalificación tras la intervención de Lashley.
Gulak siendo tratado como pelele
Contienda para determinar si Gulak entra o no a la batalla real, teniendo que vencer a AJ Styles para lograrlo. Squash donde AJ se impone fácilmente con el Phenomenal Forearm. Me da mucha pena ver a Gulak ser tratado como pelele cuando nos dio una de las mejores luchas el año pasado, más cuando sabemos lo que podría hacer junto a un luchador como Styles. Gulak debería buscar mejor suerte en otra empresa, como una donde está un tipo apodado Le Champion.
Mandy y Dana vs Nia y Shayna por millonésima vez
Lucha por equipos entre la dupla conformada por Shayna y Nia contra los conos Mandy y Dana. Encuentro meh, ver a Mandy dominando a Shayna hizo que algo dentro de mí se rompiera. Finalmente Shayna somete a Mandy con su Kirifuda Clutch para la victoria.
Triple H vs Randy Orton en pleno 2021
Brawl entre las dos leyendas con ambos gladiadores forcejeando alrededor del cuadrilátero donde Triple H se lleva la mejor parte. Hunter toma el martillo y se aproxima amenazante a Randy, las luces comienzan apagarse, el martillo se prende en llamas y todo se apaga… Alexa aparece en el ring junto a Randy. Alexa quema a Randy con sus poderes… ¿hombre que es esto? Cuanta mierda nefasta en una sola rivalidad y pensar que los paletos la aplauden.
Show bastante malo que pareció mas un programa de leyendas que el del lunes pasado con tanto viejo robando, que decir del payaseo de Alexa. Además de confirmarnos que se viene un carryjob muy difícil para Drew.
También te podría interesar
Val Venis realizó polémicas declaraciones sobre The Rock