Resultados Monday Night RAW 15.03.2021
Resultados del último Monday Night RAW rumbo a Fastlane donde Asuka hizo su regreso a la acción enfrentando a Shayna Baszler.
La Era de Bobby Lashley comienza en RAW
Damos inicio a otro episodio de Monday Night RAW que abre con una promo de Lahley junto a MVP. Lashley habla sobre su sus planes ahora que es el campeón, el campeón aclara que ahora es la era de Bobby Lashley. Miz sale a escena junto a Morrison recordando las grandes luchas de WrestleMania mientras propone un Miz vs Lashley. McIntyre se une al payaseo para mofarse de como MVP habla siempre por Lashley, preguntando si acaso él no puede hacerlo solo, tras un breve intercambio de palabras Lashley finalmente ataca a Drew. Mientras Bobby intenta retirarse Sheamus aparece y lo ataca, recordándole que ahora tiene un blanco en la espalda y el escoses no es el único que quiere su corona.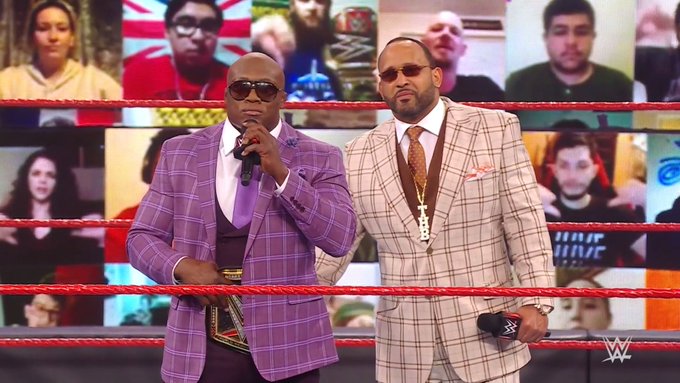 McIntyre se impone a The Miz con un mensaje para Lashley
Lucha que hemos visto cientos de veces desde el año pasado, con McIntyre dominando al heel con mucha facilidad pese a las interferencias de Morrison hasta la expulsión de este último. Finalmente Drew somete a Miz con un Full Nelson al estilo de Lashley, enviando un mensaje a su rival en WrestleMania.
Rivalidades al nivel de las peleas entre dos niños de 4 años
Tenemos otro episodio de la bochornosa rivalidad entre Shane y Strowman, Braun le dice a Shane que claramente tiene miedo y no es capaz de decirle las cosas a la cara. Strowman reta a Shane para que lo enfrente esta noche, pero lamentablemente Shane convierte esto en una guerra de insultos sobre lo estúpido que es Braun hasta que finalmente acepta. WWE y su bookeo cada día más lamentable.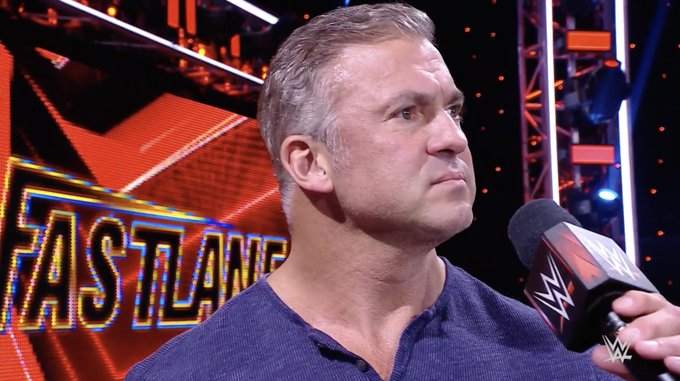 Lucha entre conos para rellenar RAW
Combate por parejas entre dos equipos conformados por conos, es decir muchos gritos y poco wrestling. Tener en una esquina a Naomi con Lana y en la otra a Dana junto a Mandy es un claro retroceso a esas pocas en donde las divas le tenían miedo a las cuerdas. Asukita sale a escena y se va a los golpes con Shayna, mientras Dana remata a Lana en el ring, aunque acá lo importante es el regreso de Asuka.
Lucha por los campeonatos en parejas
Encuentro titular entre The New Day y The Hurt Business, lo bueno es que ambos equipos son muy talentosos, pero desgraciadamente es una rivalidad muy gastada para seguir repitiéndola, si a esto le sumamos que sigue el formato de todas las luchas Tag en WWE donde un equipo domina hasta que el otro hace el hot tag, tenemos como resultado un match poco llamativo. Finalmente Kofi remata a Shelton con un Double Foot Stomp para convertirse nuevamente en campeones en Raw.
Finalizado el encuentro el Phenomenal One sale a escena en Raw junto a Omos para encarar a los nuevos campeones. AJ felicita a Kofi y Woods por su nuevo reinado, Styles dice que no sabia que hacer en WrestleMania, pero ahora tiene un plan y este es… convertirse en Tag Team Champion junto a Omos en WrestleMania.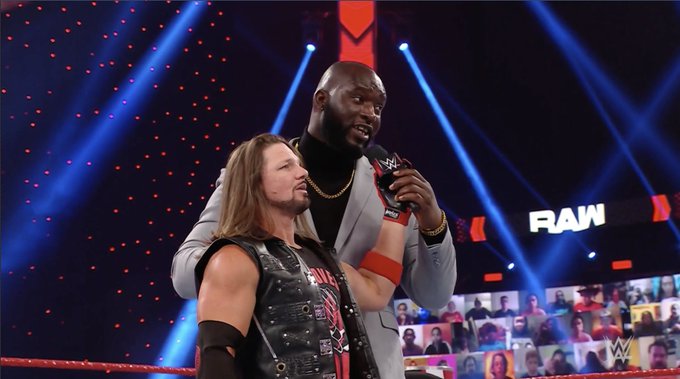 Bad Bunny deja el campeonato 24/7 en RAW
Tenemos un segmento entre R-Truth y Bad Bunny donde Truth intenta compar al cantante con regalos sobre Stone Cold que podéis conseguir en la WWE Shop guiño, guiño. Truth le pide amablemente a Bunny que le devuelva a su bebé (el título 24/7). finalmente Bad Bunny acepta y le devuelve su título a Truth, argumentando que él se lo merece más.
The Miz ataca a Bad Bunny durante Monday Night RAW
Mano a mano entre Damian Priest junto a Bad Bunny contra Jaxson Ryker en un squash donde Priest aplica rápidamente su Reckoning sobre el protegido de Elias. Elias intenta atacar a Priest con su guitarra, pero Bunny hace el salve. Mientras los face celebran Morrison aparece en la rampa para distraer a Priest y permitir que Miz ataque a Bunny con la guitarra y listo, tenemos rivalidad para WrestleMania.
La confirmación de Braun Strowman
Robo de Shane donde se enfrenta a Braun que está a nada de ser el meme más grande en la historia de WWE. Antes de comenzar la lucha Shane pide tiempo para calentar y hacerse el payaso jugando a la Rayuela. Finalmente Braun lo atrapa para darle la paliza de su vida a Shane, Strowman amaga con embestir a Shane y este lo ataca con una cámara para posteriormente preparar la mesa para su spot anual. Victoria para Shane… supongo, que cierra bañando de pintura verde a Braun.
Alexa reta a Randy Orton
Nuevo segmento del Alexa's Playground donde la poseída continua hablando sola, Alexa reta a Randy para que en Fastlane se encargue de ella definitivamente. Finalmente el segmento cierra con Alexa riendo como loca. ¿Se viene una lucha intergénero entre Alexa vs Randy Orton?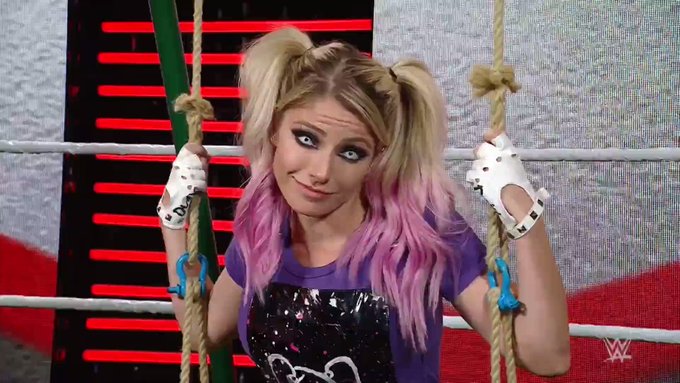 La emperatriz está de regreso en este Raw
Lucha entre dos de las mejores luchadoras dentro de WWE, donde Asuka comienza atacando con todo a Shayna tras haberle roto el diente, Nia intenta intervenir, pero Asuka la elimina fácilmente. Shayna cierra su Kirifuda Clutch, pero la campeona lo convierte en un pin para llevarse la victoria. Tras el encuentro Asuka continua su ataque sobre Shayna castigandola de cara contra las cuerdas sin protección hasta que el arbitro interviene.
Lucha por el United States Championship en RAW
Encuentro titular entre Mustafa Ali y Matt Riddle donde el líder de Retribution enfoca su ataque sobre el cuello del Original Bro, aunque creo que el selling por parte de Riddle pudo ser mejor, en especial durante el comeback donde pasa completamente del daño. Finalmente Riddle conecta su Bro Derek para la victoria para retener gracias a un error de Retribution.
No hay amor para Sheamus en RAW
Lucha estelar de la noche entre el campeón Bobby Lashley y Sheamus donde WWE intenta potenciar a Lashley de cara a WrestleMania mostrándolo dominante ante el Irlandés que solo puede contraatacar a base de trampas con ayuda del poste o las cuerdas, personalmente creo que para esto tienen a Miz y Morrison, literalmente te estas cargando a Sheamus previo a su lucha este domingo. Finalmente Lashley conecta a Sheamus con su Spear para llevarse la victoria. Durante el post match Lashley continua su ataque sobre Sheamus pero termina recibiendo una Claymore en toda la cara.
Un RAW bastante aburrido, donde se confirma que el Road to WrestleMania ha dejado de ser ese momento tan esperado del año para los fans del wrestling, con luchas anunciadas vía Twitter así nada más. ¿Dónde quedaron mis rivalidades bien construidas desde Royal Rumble o Elimination Chamber?
También te podría interesar
WWE podría tener grandes planes para Bad Bunny de cara a WrestleMania.
NXT retira talentos de pantalla por no tomarse en serio las medidas ante el Covid-19.