Resultados Friday Night SmackDown 19.03.2021
Resultados de todo lo ocurrido durante el ultimo SmackDown antes de Fastlane, donde Edge regresó a la acción.
Una nueva oportunidad de robar para Edge en SmackDown
Por cosas del destino nuevamente soy el encargado de cubrir la marca azul donde se anuncio que el miembro del salón de la fama Edge volvería a la acción para enfrentar a Jey Uso y con esto tener una oportunidad para robar foco en Fastlane durante la lucha por el título Universal.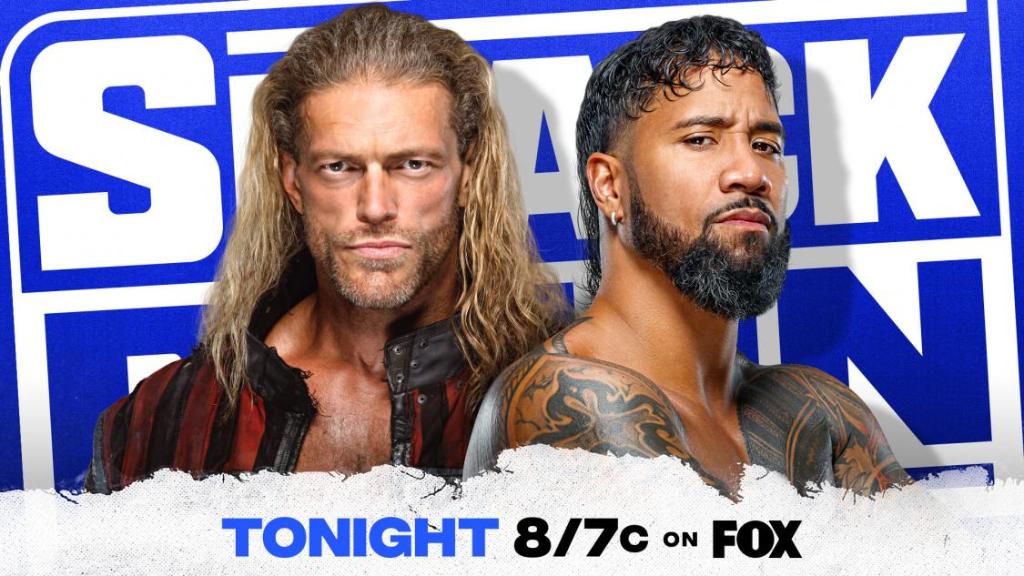 Una defensa titular para comenzar SmackDown
Primera lucha de la velada donde Sasha Banks defendió exitosamente su título ante Nia Jax. Durante la misma la campeona tuvo problemas ante la retadora quien logró someterla durante varios minutos gracias a su mayor tonelaje. Finalmente y tras un error de Shayna que le conecta una dura patada a su compañera, sirve para que Sasha consigue el pin y retiene su campeonato.
Nakamura va tras Rollins
Tenemos un promo bastante payasa por parte de rodilla de bronce donde se mete con Cesaro para continuar con su rivalidad, es interesante ver como Rollins pasó de ser campeón mundial a luchar contra Cesaro. Tras esto Nakamura haría su aparición para defender el honor de su amigo y de paso darnos una muestra de cómo sobrevender la Kinshasa por parte de Rollins.
Mala noche para los Profits
Lucha por parejas entre los Street Profits y el equipo conformado por Rey junto a Dominik. La entrada de Dominik cargando a su papá como si fuera Yoda es grandiosa. Finalmente y pese haber dominado la mayor parte del encuentro los Profits caerían ante una Hurracarrana de Dominik para Dawkins. Carlos llora desconsoladamente.
Dos encuentros en una misma noche para los Mysterio
Tras el encuentro, Gable y Otis hacen su aparición para retar a los Mysterio a una lucha, por lo que padre e hijo lucharían dos veces ante diferentes equipos. Los heels dominaron la lucha enfocando su castigo en Rey al ser el miembro más cansado del equipo. Finalmente Otis aplica una plancha desde la segunda cuerda para acabar con Dominik.
Gran promo de Daniel Bryan previo a su lucha ante The Chief
Tenemos un segmento con Daniel Bryan aclarando que de ganar Jey esta noche seguramente hará todo lo posible para ayudar a Roman, pero por otro lado, Edge tampoco desea enfrentarlo en WrestleMania. Roman aparece para asegurarle a Bryan que no tiene posibilidades de derrotarlo en Fastlane, pero antes de que pueda decir algo más, Daniel le deja claro que no va a rendirlo, va a destrozarlo y que sin importar si se rinde o no, él será quien salga como campeón.
Sami quiere que Owens abra sus ojos ante la conspiración de WWE
Mano a mano entre Sami Zayn y King Corbin la cual es vendida como la lucha más anticipada de la historia en SmackDown… por la mamá de Sami claro. Durante la misma Zayn intentaría hacer trampa para ganar pero con poco éxito debido a las múltiples intervenciones del árbitro. Finalmente Corbin vence a Zayn con su End of Days para la victoria. Tras la lucha Sami le pregunta a Owens si vio algo sospechoso, pero ante su negativa termina atacándolo con la Helluva Kick.
Apollo logra sacar la versión más ruda de Big E
Segmento entre Big E y Apollo que termina con el face buscando a su rival por todo el Thunderdome sobre un auto, tras esto ambos tienen un pequeño brawl que termina con Apollo escapando con ayuda de los árbitros tras sufrir tremenda paliza por parte del campeón intercontinental. Este es el Big E que queríamos ver, no el que se saca panqueques del pantalón.
¿Problemas entre las campeonas en parejas?
Segundo encuentro femenino de la velada entre Bianca y Shayna que se pactó tras un reto de la ruda. Jax dejaría sola a Shayna permitiendo que Natalya y Tamina atacaran a su compañera terminando el encuentro por descalificación. Tras esto Bianca también se llevaría lo suyo en lo que parece ser el indicio de que se viene otro robo por parte de Natalya.
Edge un alumno de la escuela de Jeff Hardy
Lucha estelar de la noche que supuso el regreso de Edge como luchador activo a SmackDown, donde The Rated R Superstar y Jey Uso se enfrentaron para determinar quien será el enforcer del encuentro entre Bryan y Roman. Uso enfocaría su castigo a las costillas de Edge, quien se la pasó tirado en el suelo 90% del match, pero aún así dirán que está en la mejor condición física de su carrera.
Finalmente, Edge conecta su Spear pese a casi no haber hecho nada durante el match para llevarse la victoria. Tras la lucha Roman aparece y le aplica su Spear a Edge y Bryan mientras posa guapo y dominante.
Buen episodio de SmackDown que deja todo listo para este domingo, por otro lado queda claro que Edge no está en condiciones para tener un encuentro individual sin el apoyo de la edición.
También te podría interesar
Se revela quienes serán los anfitriones de WrestleMania 37.
Drew McIntyre habla sobre quienes serian los integrantes de su monte Rushmore.