En esta nueva edición de RAW vs Nitro, seguimos con la storyline de Scott Hall llegando con fuerza a WCW, mientras que WWE sigue con las rondas del King of the Ring. Recordemos que el programa de WWE sigue durando 1 hora, mientras que el de WCW dos.
También es importante recordar, por si se genera confusión, que solo contamos aquellos programas que presentaron producto nuevo y no especiales envasados como lo ocurrido en PPV (como ha pasado de forma constante). E incluso algunos a veces TNT presentaba la NBA antes que Nitro.
10 de junio de 1996, Monday Night RAW 163, Fayettville, North Carolina. Rating: 2.7.
Owen Hart vs Yokozuna, primera ronda del King of the Ring
Duelo entre viejos aliados en armas. Pese a que Owen le pone pimienta y calidad al asunto, Yokozuna era Yokozuna no más. Increíblemente, Hart hizo el pin de manera limpia. Feliz aniversario.
Marc Mero vs Skip, primera ronda del King of the Ring
Sorpresa, buen combate se sacó Skip (más conocido como Chris Candido o el cornudo) con Mero. Vimos las tácticas heels en que se manejaba Skip, pero sin ayuda de ninguna bizarra intervención. No obstante, Marc terminaría dándolo vuelta para lograr el pin.
Considerando los resultados de hoy, ya estaban listos los cuartos de final del KOTR. Los encuentros iban a ser los siguientes:
– Marc Mero vs Owen Hart.
– "Stone Cold" Steve Austin vs Savio Vega. Savio le había ganado a Marty Jannety en Superstars (el otro show televisivo de WWE en esa época).
– Jake "The Snake" Roberts vs Justin Bradshaw (JBL). Bradshaw venía de derrotar a Henry O. Godwinn en Superstars.
– Vader pasaba a semifinales automáticamente, ya que Ultimate Warrior y Goldust se fueron eliminados en su match.
The Undertaker vs British Bulldog
Poco que destacar del Deadman de esos años y Bulldog no era tampoco el luchador capaz de carrear a todo el mundo. Combate falto de luces. Lo peor es que Undertaker masacró al inglés en el final y ganó debido a una trampa de Mankind, quien le provoca la cuenta fuera del ring. El Bulldog era el contendiente n° 1 al título de HBK y siento que así no lo dejaron muy bien parado.
10 de junio de 1996, Monday Night Nitro 39, Wheeling, West Virginia. Rating: 2.6
Scott Steiner vs Booker T
Considerando que uno los vio en el ocaso de sus carreras en la TNA del 2008, vaya que se veían distintos los dos en 1996. Parecían dos personas diferentes. Steiner era mejor en esta época, pero Booker nunca me ha convencido como luchador individual y este es el vivo ejemplo. Victoria para Steiner.
Diamond Dallas Page vs Jim Powers
Sigue el push para DDP y derrota a Jim Powers. Igual, pasaría su buen tiempo antes de hablar de un push por el título mundial.
Sting vs Meng
Combate de 3 minutos en que vemos lo bueno que era Sting. Detalle interesante sobre Meng (o Haku) y es que su ofensiva era MUY stiff. Se notaba que pegaba duro y confirma lo que se dice sobre él. Le da un toque realista al encuentro, pero me imagino que sus rivales no estaban tan felices.
Jim Duggan vs Squire David Taylor
Squash a favor de Duggan.
The Giant (c) vs Scott Norton, WCW Heavyweight Championship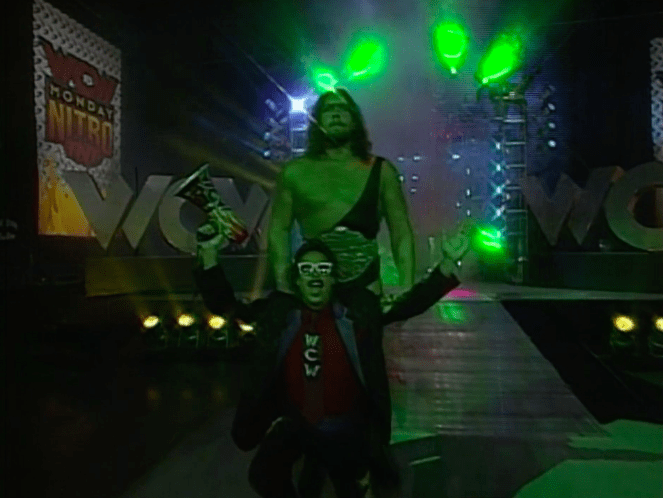 Norton golpeando duro parecía crecerse, pero tras una Chokeslam fuera del ring, The Giant (Big Show) se lo despachó en solo 5 minutos. Tras el match vino lo interesante. Apareció Lex Luger y comenzó un brawl con el gigante, donde Luger pega y se va rápido, dejando enfadado al Giant. Esto continuaría más tarde.
Lord Steven Regal vs Billy Kidman
Squash a favor de Regal. El inglés siguió golpeando a Kidman y en ese momento apareció Sting a confrontar a Regal y ayudar al pobre jobber. Sting está en todos lados, ah.
The Public Enemy (Johnny Grunge y Rocco Rock) vs The Nasty Boys (Brian Knobbs y Jerry Sags)
El tag Public Enemy ganó por descalificación, luego de que el combate se volviera algo hardcore. Igual no es gran cosa el encuentro, ni antes ni después.
Sting (c) y Lex Luger (c) vs The Four Horsemen (Ric Flair y Arn Anderson), WCW Tag Team Championships
Lo podemos confirmar: Sting está en todos lados. En un mismo show, squasheó a Meng, confrontó a Regal y ahora llegaba a defender los campeonatos en pareja con Luger. Pero bueno, por otro lado el tipo era muy carismático y talentoso en general. Al final, justificaba el robarse la cámara.
Pasando al combate, es bueno aún para ser de show semanal. Al principio, los babyfaces le dan la papa a los dos miembros de los Four Horsemen en el ring. Y vemos a Flair y Anderson haciendo tiempo en ringside. Pero aprovechan descuido del referí para picarle los ojos a Sting y comenzamos a ver lo bien que funcionaban los dos.
A menudo, Anderson no provocaba gran cosa en el ring. Pero hay que señalar que era el patiño perfecto para Flair. Se acomodaba muy bien a las distintas trampas del Nature Boy. Hay una muy buena en que Flair no puede levantar a Sting por un supuesto "dolor de espalda" y eso provoca que el árbitro vaya a atenderlo, mientras que Anderson aprovechaba de darle con todo a Sting. Finalmente se produce el relevo a Luger y Lex limpia la casa.
Antes de que el match realmente pasase a esta fase final, ocurre la intervención del Giant en represalia a lo de Luger y bueno, el combate termina en DQ. Aún sin esa falta de clímax, resultó ser un combate recomendable. Así que, en una de estas ocasiones inéditas, saco la máquina de jumbitos.
Valoración: 3 jumbitos.
Volviendo al tema del Giant, trató de meterse con Luger, pero entraron Sting y Scott Steiner, y tal como en el Nitro pasado, entre los tres echaron al monstruo. Nótese que para estos spots de ME, llevaban al puro Scott, no a Rick. Ya se notaba a que Steiner pusheaban más.
En el post-match, Eric Bischoff hablaba con su colega Bobby Heenan sobre lo acontecido en el show y Heenan se va, dejando solo a Bischoff. En ese momento, apareció Scott Hall a molestar una vez más al booker en jefe de WCW. Y acto seguido, le mostró su anunciada sorpresa: Kevin Nash. Ambos Outsiders dijeron que esto solo era el inicio, dejando una interesante postal al final del show.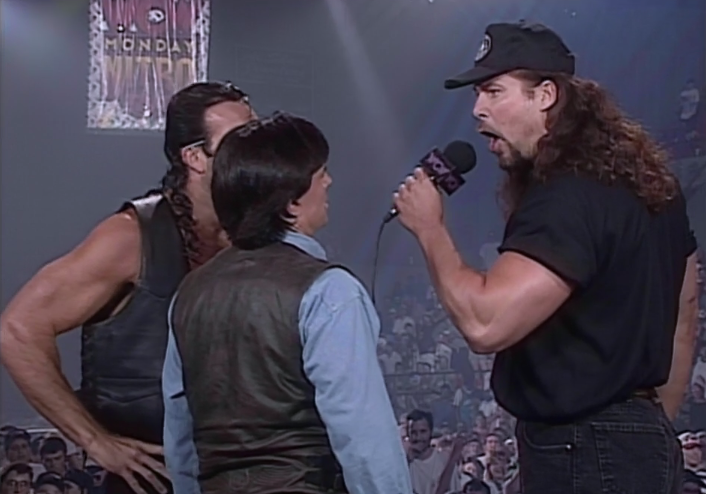 ¿Cuál fue el error de este Nitro o en general, del bookeo reciente de WCW? Qué no lo he mencionado, pero este fue el show anterior a Great American Bash. Esto era la previa del PPV, pero apenas hubo un trabajo en las rivalidades de los combates.
El plato fuerte de ese PPV era Luger retando al Giant y a pesar de los roces, nos quedamos sin ese paso en que anuncian a Lex de retador. Otro combate, iba a ser Sting vs Regal, el cual comenzó a tomar forma en este mismo Nitro. Y en cuanto a otros combates del PPV, eran a partir de rivalidades que apenas se mostraron en televisión.
Pese a todo, el ME de este Nitro y la storyline de los Outsiders me deja mejores sensaciones que un RAW no malo. Así que en resumen:
Nitro: 20 RAW: 16
Mientras que en PPVs:
WWE: 6 WCW: 1
Chelsea Green se burla de las prohibiciones en redes sociales de WWE
Mickie James habría intentado tener otro rol en WWE antes de ser despedida