Brandi Rhodes emocionada por el regreso de "Dexter"
Una de las series emblemas de Showtime regresa y Brandi Rhodes no podría estar más contenta.
La actual Chief Brand Officer de AEW, Brandi Rhodes, se ha mantenido alejada de las cámaras y cuadriláteros por bastante tiempo, debido a que está ad portas de dar a luz. Lo que quizás nunca se imaginó, es que podrá tener un post natal soñado, que coincidirá con el regreso a la televisión de una de sus series favoritas.
¿De qué trata Dexter?
"Dexter es un forense, especializado en análisis de salpicaduras de sangre en el Departamento de Policía de Miami. También es un fiel novio, un divertido padrastro, un hermano confidente y para algunos, un freak de la sangre. Pero además, Dexter es un psicópata que, al terminar su turno en la comisaría, busca a criminales cuestionables para saciar su particular moral y los mata: Dexter es un asesino en serie". Descripción vía Filmaffinity.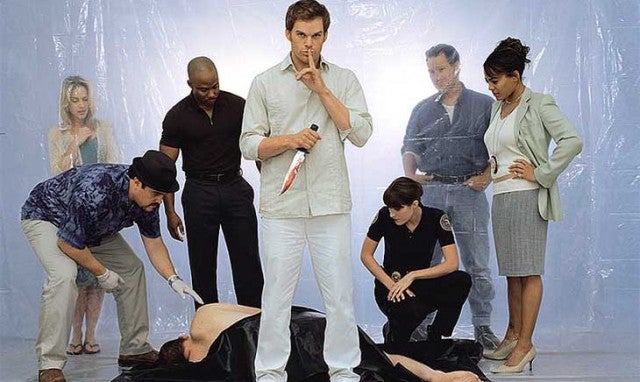 "Dexter", es una de las series más populares y aclamadas del siglo 21. Cuenta con nominaciones y galardones en algunos de los premios más prestigiosos del mundo de la televisión. Pero al igual que otros productos de la misma índole, tuvo que pagar un precio muy alto cuando la producción no pudo terminar el show cuando estaba estipulado, dejando atrás parte de la magia y calidad que la caracterizó en las primeras temporadas.
"Remember the Monsters?" emitido el 22 de septiembre de 2013, fue la última vez que vimos a Dexter haciendo de las suyas en Miami. Dicho episodio quedó marcado por ser uno de los peores evaluados en sitios como Imdb, por lo que no tardó en quedar grabado en la cultura popular como uno de los peores finales de serie.
Para alegría de sus seguidores, Dexter regresa tras ocho años para redimirse. Si bien es cierto, la noticia se sabía desde hace meses, la cadena "Showtime" hogar del producto, ya le puso una fecha tentativa al reestreno de uno de sus clásicos contemporáneos.
Dexter volverá a decir "Tonight's the Night" en el otoño del hemisferio norte, lo que querrá decir que en América del Sur, caería alrededor de septiembre u octubre de este año. Brandi y otras figuras de la lucha libre como Marko Stunt y Alicia Atout no tardaron en reaccionar en sus redes sociales.
La obsesión de Brandi Rhodes con Dexter
Lo más probable es que Dexter esté en el top 10 o top 5 de series favoritas de varios de nuestros seguidores y miembros del staff. También es así para Brandi, que ha demostrado su fanatismo en Twitter durante los últimos años, destacando la publicación en que posiciona el show en segundo lugar después de la aclamada "The Office". (de la cual discutimos brevemente en el reciente "Hoy en el Wrestling")
Que buenos gustos tiene Brandi …
Para el deleite de viejos fans y quienes quieran ver por primera vez la serie, Dexter actualmente se encuentra completa en Amazon Prime. La novena temporada se compondrá de 10 episodios y se desarrollará en tiempo actual, sin omitir el final que tuvo en 2013. Esta nueva entrega contará con el regreso del showrunner de las primeras cuatro temporadas, Clyde Phillips y el reparto estará integrado, obviamente por el legendario, Michael C. Hall y nuevas adiciones como Clancy Brown, Julia Jones, Johnny Sequoyah, Alano Miller, Jack Alcott, entre otros.
¿Qué pensará Brandi del gran Vince Masuka? ojalá preguntárselo alguna vez.
Tambien te puede interesar:
El sofisticado Tinder por el cual se conocieron Britt Baker y Adam Cole
You Gotta Be Joking Me: The IIconics y una división a la que no le sobra nada