Resultados IMPACT Wrestling: Under Siege 2021
El especial de IMPACT Wrestling, Under Siege conoció a su próximo retador al título mundial.
Under Siege 2021
Una parada antes de Slammyversary
Antes de Slammyversary, IMPACT Wrestling hace una parada previa en otro evento especial para su plataforma: Under Siege. Este evento tuvo entre sus platos fuertes una lucha para encontrar al próximo retador al título mundial de IMPACT. Además, veremos en acción al campeón actual, Kenny Omega, en una contienda de relevos australianos.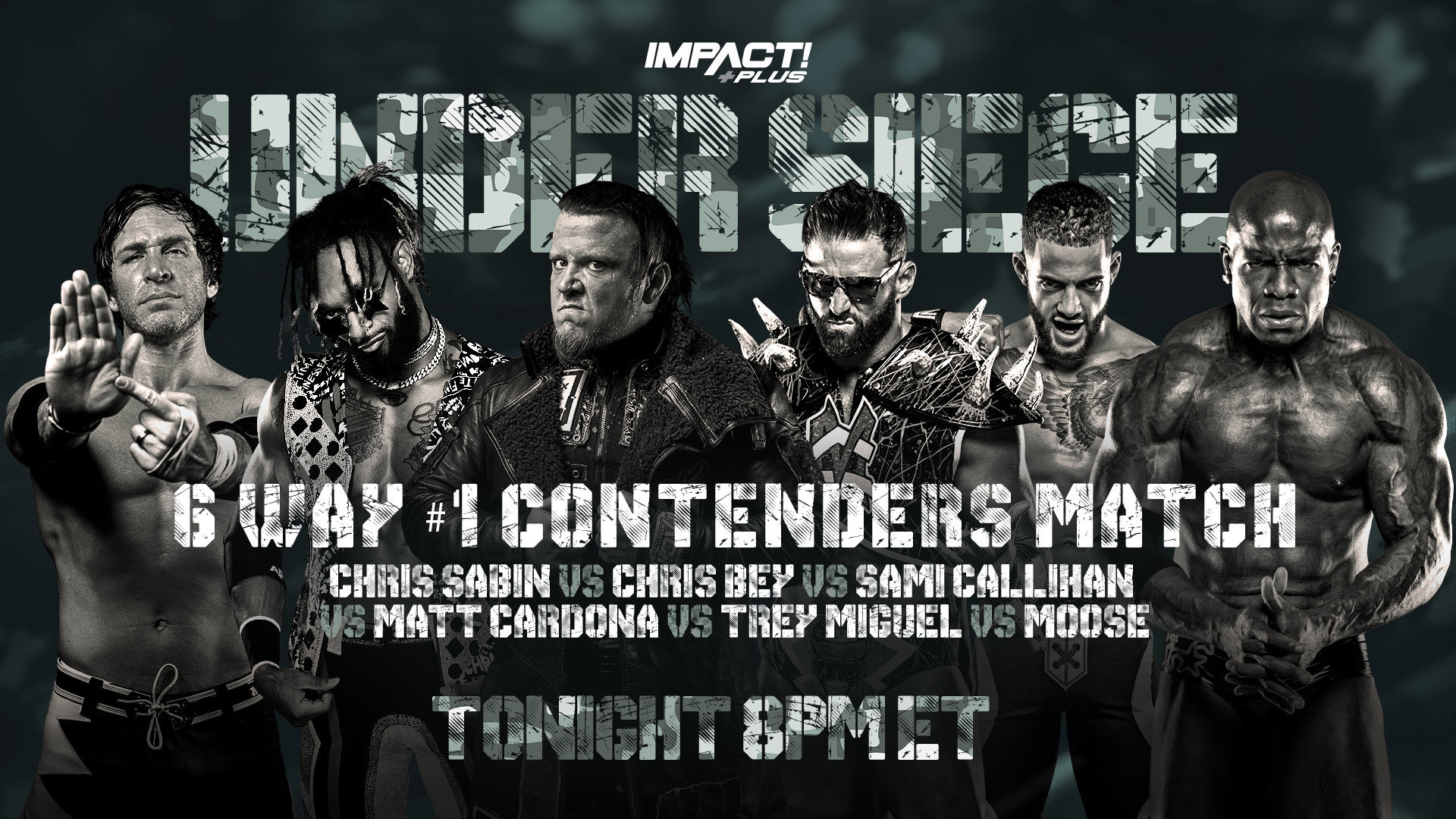 Resultados de Under Siege
Brian Myers venció a Black Taurus (con Decay)
Taurus empezó dominante al inicio pero Myers con jugadas sucias tomaría ventaja. A pesar de que Myers se distrajo con el resto de Decay, pudo conectar su Big Lariat para llevarse la victoria de manera sorpresiva.
Tenille Dashwood y Taylor Wilde superaron a Susan y Kimber Lee
La extraña alianza entre Taylor y Tenille surte efecto y superan a Kimber y Susan, luego de una trampita de Tenille que permitió a Taylor planchar a una de las rivales con un Roll-up.
Ace & Fulton derrotaron a TJP y Petey Williams, Team XXXL y Rohit Raju y Shera, ganando una oportunidad a los títulos por parejas de IMPACT
Iba en un ritmo algo rutinario y tedioso al principio, pero agarra algo más de vuelo cuando el resto de tags ingresa al mismo tiempo. Ace Austin plancha a uno de los XXXL con una asistencia Fulton.
W. Morrisey batió a Willie Mack
Estuvo mejor de lo que me esperaba. Morrisey estaba destrozando a Mack en gran parte del match pero como venden a un vapuleado Mack es destacable y justo su comeback tenía algo de emoción. Lamentablemente para Willie no le alcanzó y en un par de minutos más fue aplastado por un Black Hole Slam de Morrisey, que sigue imparable en IMPACT Wrestling.
Tras el match, el anteriormente conocido como Big Cass busca seguir castigando a Mack pero Rich Swann salió a su rescato, sacando al gigante.
Fire N Flava (Tasha Steelz y Kiera Hogan) vencieron a Jordynne Grace y Rachel Ellering ganando los titulos en parejas de Knockouts
Decente duelo y quizás mejor que el match de Rebellion. Las rudas buscaron hacer trampa para desequilibrar a sus rivales y lograron dejar fuera Rachel, para que al final Tasha lograra el conteo sobre Jordynne.
Josh Alexander superó a El Phantasmo para retener su campeonato X Division
Bonito duelo entre el campeón de IMPACT Wrestling y el luchador de NJPW. El estilo aéreo del Phantasmo supuso un problema para el campeón, pero este con su habilidad técnica intercepta varios intentos de este. Buenos spots y reversall, destacando el súper Frankensteiner del Phantasmo, uno de los algunos intentos donde el miembro del Bullet Club estuvo cerca de sorprender con un triunfo. Alexander al no poder aplicar el Jay Driller, busca la rendición del Phantasmo y tras mantenerlo un rato bajo presión, logra su rendición. El match de la noche y recomendable de ver.
Valoración: 3 jumbitos y medio +.
Deonna Purrazzo batió a Havok reteniendo el campeonato de Knockouts
Deonna al verse menos en tamaño y físico apela a trabajarle el brazo izquierdo a Havok para bloquear cualquier intento de Tombstone de su rival. Havok la llega a poner contra las cuerdas un rato pero al final sucumbe al Fujiwara Armbar de la Virtuosa.
Eddie Edwards y Finjuice (David Finlay y Juice Robinson) vencieron a Kenny Omega y The Good Brothers (Doc Gallows y Karl Anderson)
Iba como el típico combate de relevos de 6, con los rudo centrándose en dañar David Finlay. Agarra algo más de ritmo con el ingreso de Juice, y un nivel mejor tras el ingreso de Eddie Edwards quien se va contra todos, destacando sus cruces con Kenny Omega (que en un futuro deberían darles un mano a mano). Parecía que los miembros de The Elite se llevarían la victoria tras deshacerse de FinJuice, pero Eddie soportó hasta que los campeones por parejas de IMPACT se recuperaron y ayudaron a que el Psycho Wolf conectara el Boston Knee Party sobre Anderson, de este modo llevándose el triunfo.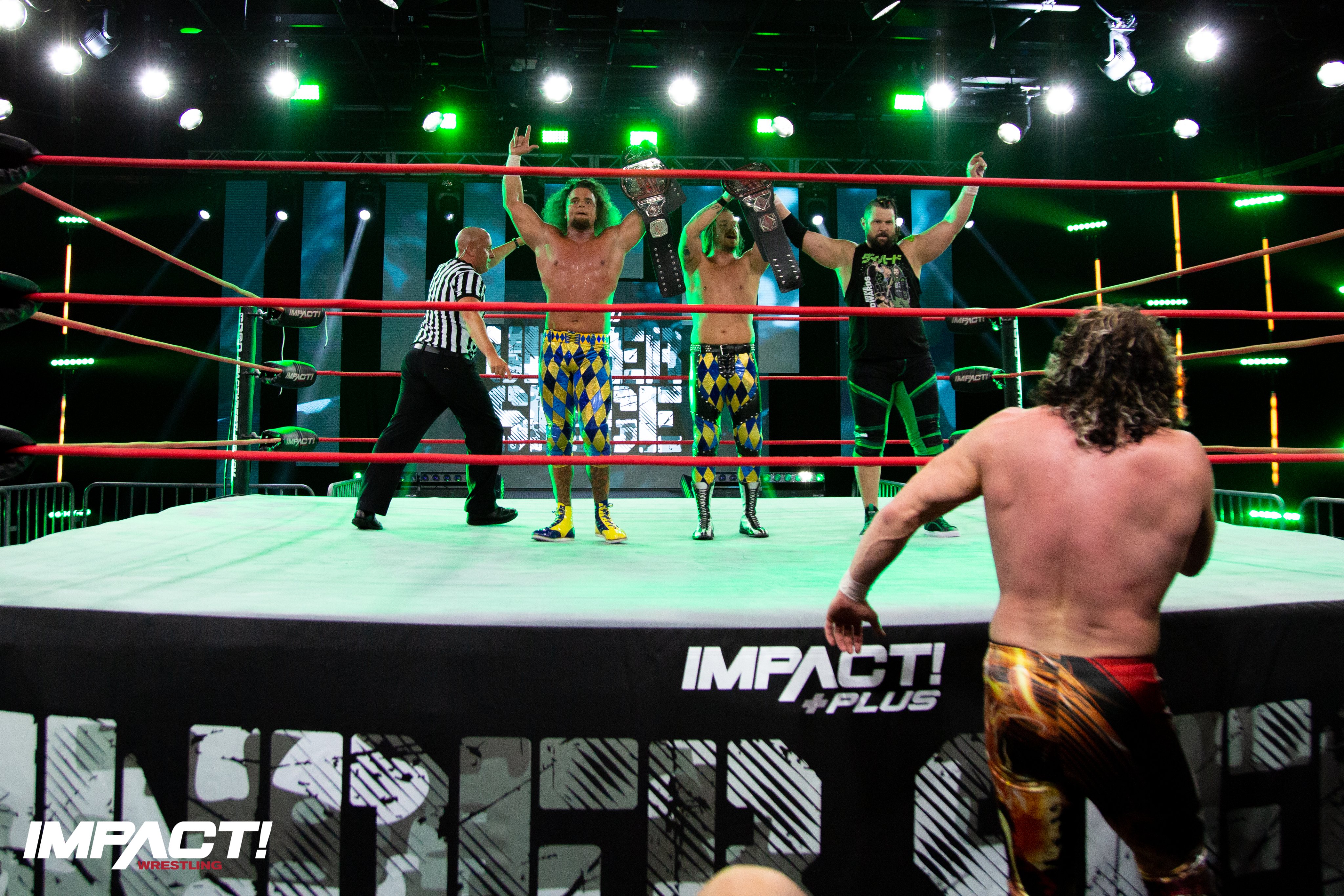 Moose superó a Sami Callihan, Chris Sabin, Trey Miguel, Chris Bey y Matt Cardona para convertirse en el nuevo relatador al titulo mundial de IMPACT
El evento central de la noche. Partió con Moose barriendo con todos y debido al poderío de esto algunos se tuvieron que combinar para derribarlo. Callihan jugó de oportunista pero al mismo al ingresar una silla, quedando al borde del triunfo luego de que varios rivales quedaran tendidos pero los Good Brothers le costaron la victoria. Moose aprovechó el alboroto y aplicó una Spear sobre Sabin para llevarse el triunfo.
Momentos más tarde se confirma que el Moose vs Kenny Omega por el campeonato mundial se realizara en el próximo especial de Against All Odds.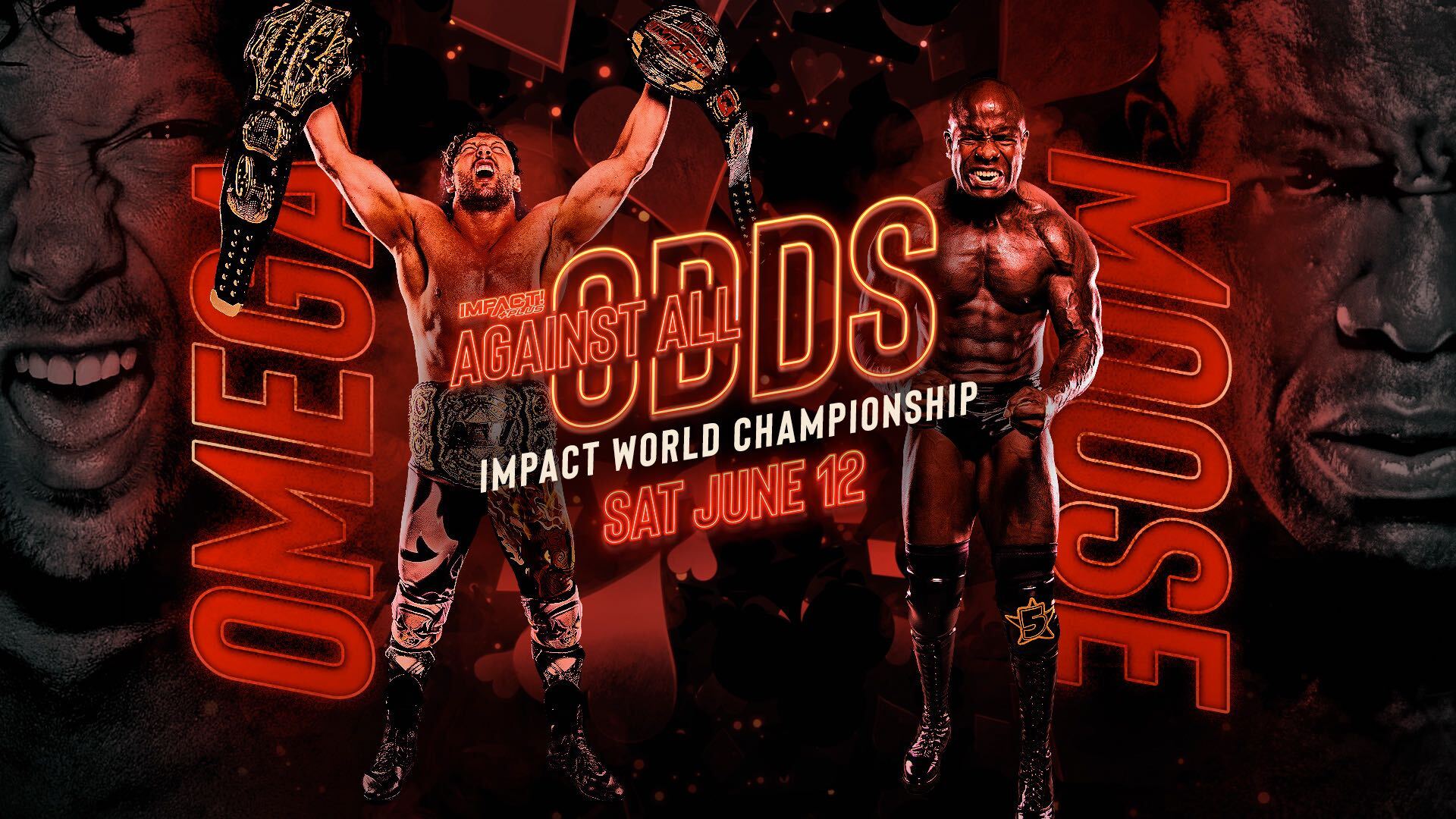 También te puede interesar
¿Tensión entre los vicepresidentes ejecutivos de AEW?