Resultados AEW Dynamite Fyter Fest II – 21.07.2021
Jon Moxley vs Lance Archer y Nyla Rose contra Britt Baker destaca en este AEW Dynamite especial.
Llega la segunda parte de Fyter Fest en este AEW Dynamite, con Texas nuevamente como protagonista.
Lo que trae este AEW Dynamite
En esta ocasión, Jon Moxley estará defendiendo el título US IWGP ante Lance Archer en un Texas Deathmatch. Por su parte, Britt Baker también pondrá en juego su título ante Nyla Rose.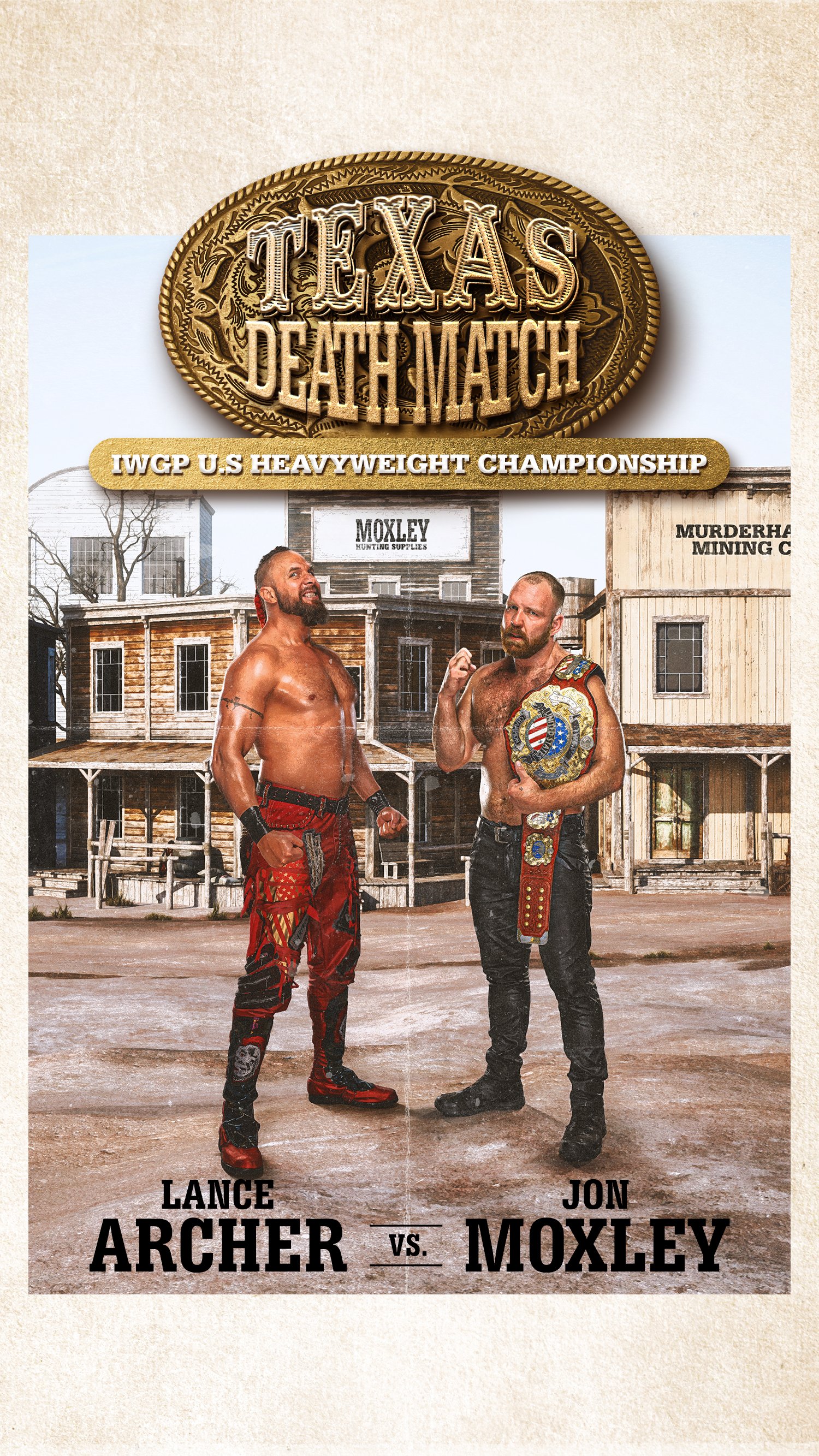 Darby Allin, Orange Cassidy, Chris Jericho, Shawn Spears, entre otros, también verán acción.
Sigue acá toda la cobertura
Chris Jericho vs Shawn Spears, Chairs Match solo para Spears.
Aceptable duelo. Cumple su papel de prender al publico debido a que Jericho los involucra en sus ataques. Los momentos finales son lo mas destacado, donde se juega que Spears puede arruinarle la noche al Alpha de AEW. Con todo e intervenciones de Tully Blanchard, Jericho conecta el Judas effect.
Tras la lucha, MJF felicita a su oponente por su victoria y dice que esto será la ultima vez que sonría pues enfrentara en la siguiente semana al peligroso Nick Gage en un No DQ Match. El mismo Gage aparece despertando los aplauso del publico.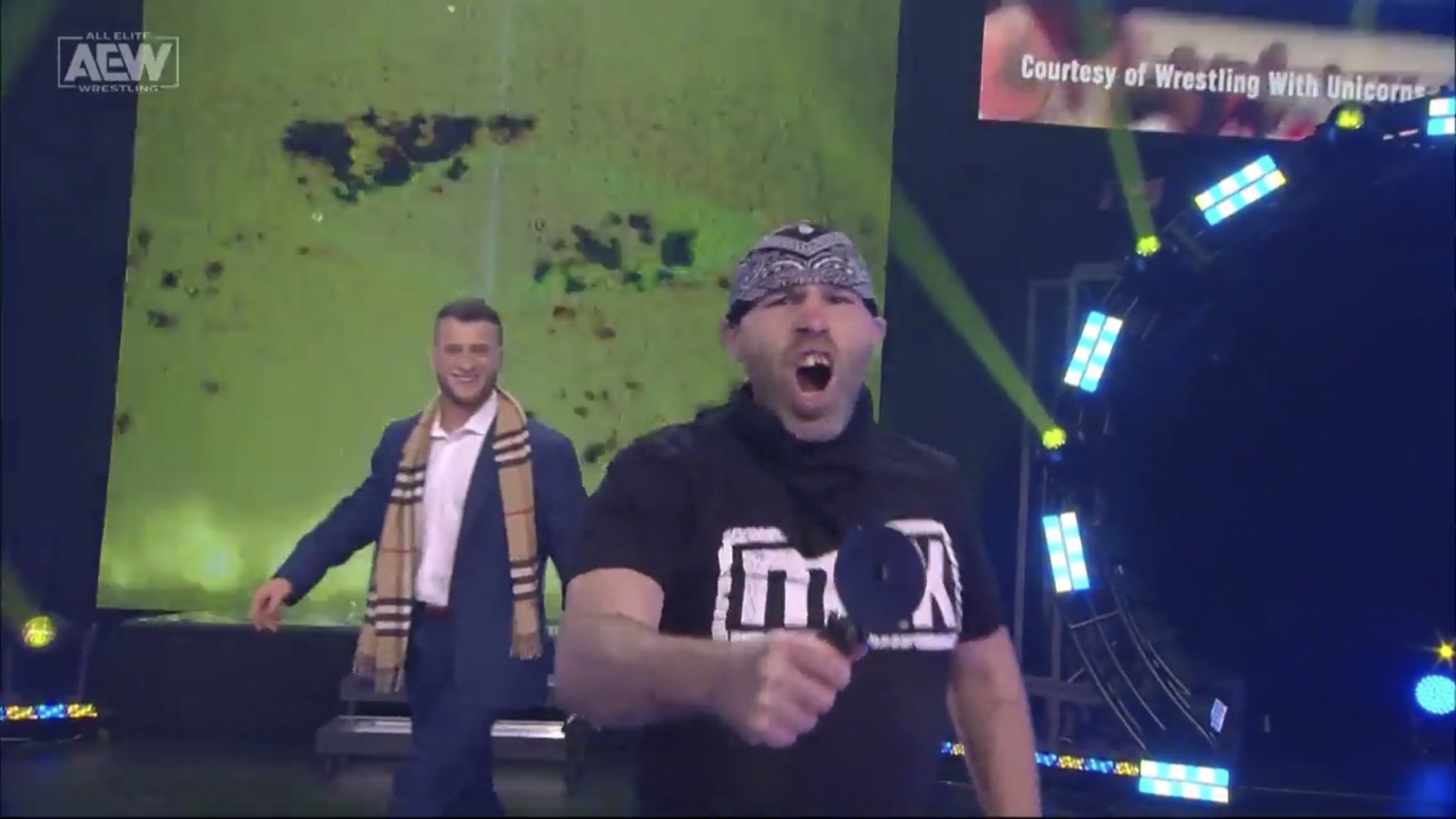 Frankie Kazarian vs Doc Gallows (con Karl Anderson)
Fome combate debe decirse. "The Elite Hunter" trata de ponerle algo de color con su ofensiva pero las fases de dominio de Gallows lo tornaron en algo soso. A pesar del buen desempeño de Frankie, este caería derrotado tras una ayuda de Anderson en favor de su compañero.
Kenny Omega junto Don Callis salen para atacar a Kazarian pero Adam Page (En medio de grandes aplausos) junto a Dark Order salen para hacer el salve.
Darby Allin (con Sting) vs Wheeler Yuta (con Orange Cassidy)
Yuta se hace presente también en la segunda noche de este especial de AEW Dynamite. Un buen mejor desempeño de Yuta en comparación de la semana pasada y le encajo algunas movidas a Allin. Orange Cassidy también tuvo su momento para interactuar con Sting. Victoria del ex campeón TNT en un correcto duelo.
Tras la lucha, The Blade ataca por la espalda al naranjas dejándolo inconsciente.
Britt Baker (c) (con Rebel) vs Nyla Rose (con Vicky Guerrero), Campeonato femenino de AEW
Como primera prueba para el reinado de la doctora me pareció decente con poquito a ofrecer. Nyla la supera físicamente por lo que la doctora es algo mas astuta al momento de atacar, bloqueando sus intenciones mas amenazantes. Me gusto el guiño a Eddie Guerrero y sus intentos de trampas para ganar, pero de allí poco. La doctora fue mas y consiguió encajar a Nyla en su llave de rendición para retener el titulo femenino de AEW.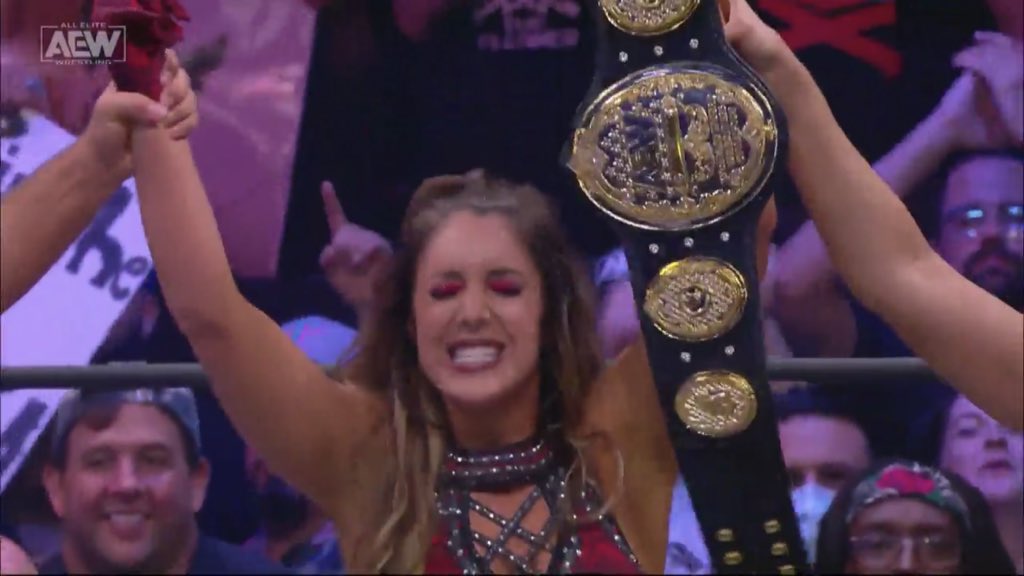 Segmento donde Tony Schiovone entrevista a Andrade "El Idolo"
El Idolo presenta a su nuevo asesor, Chavo Guerrero, quien en medio de aplausos habla de que nadie es mejor que Andrade. El Triangulo de la muerte interrumpe y se meten con ambos diciendo que ninguno de ellos representa a los latinos. Ambos equipos están por irse a las manos pero son separados.
Orange Cassidy vs The Blade (con The Bunny)
No estuvo mal, tuvo sus pasajes buenos. Aunque me sigue pareciendo fome el dominio de Blade. Cassidy siendo la presa al menos logra levantar la grada y a pesar de estar en desventaja por las intromisiones de Bunny, logro conectar con el Orange Punch para derrotar a Blade.
Tras la lucha, Orange aplica un Orange Punch a Blade usando unos nudillos de acero.
Jon Moxley (c) vs Lance Archer, Texas Death Match por el campeonato USA IWGP
El evento central de esta segunda noche especial de AEW Dynamite. Entretenido combate y de lejos el mejor de la noche, con la brutalidad mas que presente. Archer al jugar de local hizo que Mox asumiera el papel de rudo del encuentro. Me gusto como emplearon el tenedor en un elemento importante para el duelo, puesto que Moxley es quien lo usa para torturar al "Murderhawk Monster" y agravándole la herida ocasionada tras un Pardigm Shift en ringside.
Mox se mete bien en el papel de antagonista y logra que cada reacción de Archer se sienta efectiva. Buenos spots construidos pero seria el Chokeslam en una mesa con alambres de púas (Guiño a su lucha en New Japan) de Archer hacia Moxley, lo que le daría la victoria al primero y el titulo USA.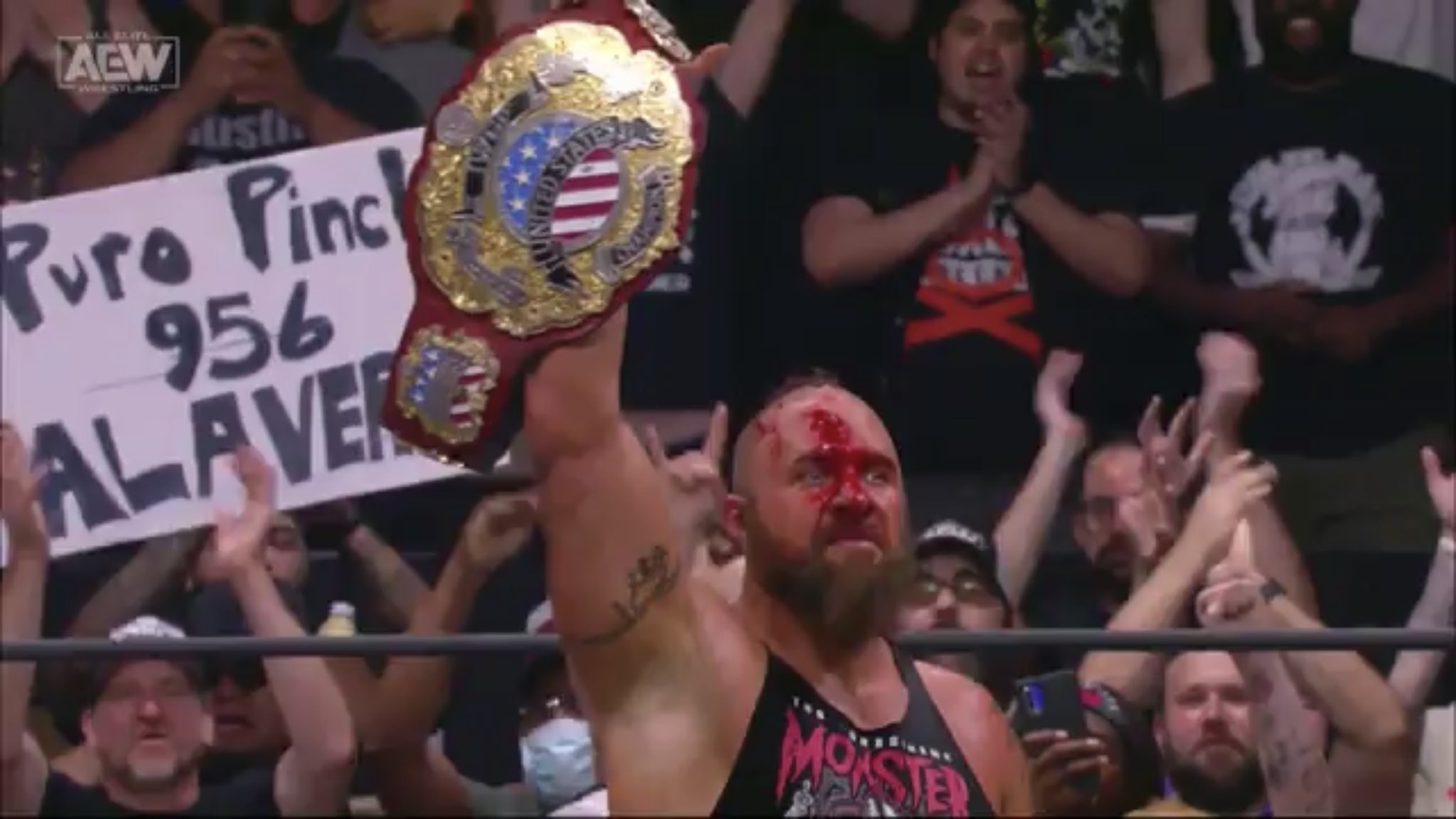 Conclusiones
Definitivamente inferior a la primera noche pero tuvo una que otra cosa a destacar, siendo lo mas llamativo el Main Event. Podemos decir que en sintesis el Fyter Fest en sus dos jornadas han dejado cosas positivas y sentando bases para cosas interesantes a futuro. La próxima parada será Fight For The Fallen
En otros temas
Afirman que CM Punk y AEW se encuentran en negociaciones
El particular sueño de Britt Baker y que no tiene nada que ver con wrestling