Heels: Lo que dejó el piloto de la nueva serie de wrestling
Opinión del primer episodio de Heels, la nueva serie sobre el wrestling.
"En el mundo de la lucha libre profesional, los héroes son conocidos como técnicos (face) y los villanos son conocidos como rudos (heel)". Bajo esa premisa inicia la nueva serie de televisión de wrestling de este 2021, producto del canal Starz.
Conociendo a los hermanos Spade
"Kayfabe" se titula el primer episodio. La serie trata de la DWL, Duffy Wrestling League, lo que coloquialmente sería conocida como un salón de bingo, esta es una empresa familiar ubicada en la pequeña localidad de Duffy, Georgia.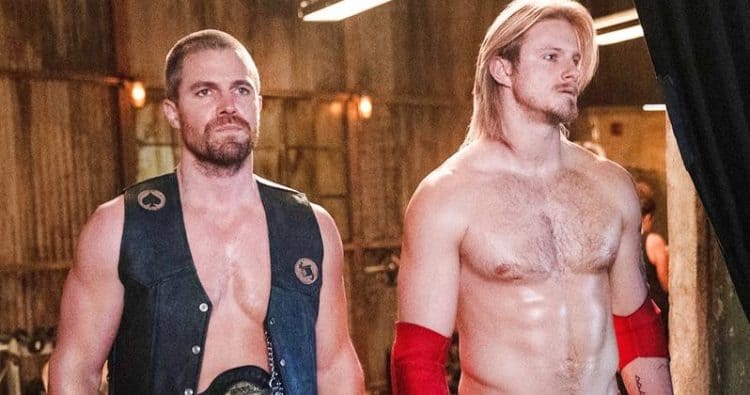 Jack Spade (Stephen Amell de Arrow) ha heredado el negocio de su padre y es el actual promotor, campeón y protagonista de esta historia. Un luchador villano clásico, que intenta permanecer en el personaje a todo momento, incluso se niega a ir a misa con su esposa con tal de mantener el kayfabe y verse desagradable a todo momento ante los niños del pueblo, es más, durante las luchas es abucheado por su propio hijo.
Ace Spade (Alexander Ludwig de Vikings) es el hermano menor de Jack y mayor babyface de DLW, luchador prometedor que quiere ser el campeón y lo que más desea es arrebatarle el título a su hermano. Ludwig interpreta a un personaje interesante, que puede dar mucho, ya que fuera del kayfabe es un tanto idiota, irresponsable e inmaduro, quien trata a su valet Crystal (Kelli Berglund) como una mera herramienta para su trabajo, con la que puede tener sexo sin involucrar sentimientos. Un Rockstar.
El interesante planteamiento de "Heels"
El pase de antorcha entre hermanos es quizás el gran planteamiento de la trama del primer episodio. ¿Cuál es la mejor manera de hacerlo? Es lo que se pregunta Jack varias veces durante los 60 minutos de capítulo, especialmente cuando Ace tiene una oferta para salir del pueblo e ir a las ligas mayores. Esta oportunidad se la plantea su tío, Willd Bill (Chris Bauer de The Wire), un famoso ex luchador que ahora es un cazatalentos.
Entonces se da una interesante dinámica en la decisión de quien debe ganar el gran main event entre hermanos. ¿Dejar el título en la empresa? ¿Darle el campeonato al babyface que se irá? Preguntas no ajenas a las empresas mainstream que hemos seguido durante décadas, como en el caso de Bret Hart y Shawn Michaels o del duelo entre The Rock y Steve Austin en WrestleMania 17.
Otro apartado a destacar en la serie es la influencia de la cultura pop del wrestling. Solo en el piloto se menciona a Vince McMahon, la WCW, Ric flair y Sting. El producto no se desliga de nada, acepta influencias y no por nada han invitado a CM Punk a participar.
¿Es recomendable "Heels"?
Después de ver el piloto, como serie de televisión creo que hay una larga lista de productos que recomendaría antes, pero sabiendo que esta página va dirigida a un nicho en específico, mi respuesta es un rotundo sí. Se nota que el producto está hecho por fans y para fans. La narrativa que te quieren vender en los combates cobra todo el sentido del mundo, cuando tu como fan es lo mismo que buscas en tus empresas favoritas. Como si fuera poco, un CM Punk que está en la palestra por un posible debut en AEW tendrá una aparición. Creo que no pierden nada con al menos intentar seguir esta serie que de seguro dará que hablar.
También te podría interesar.
Adam "Edge" Copeland resumió su participación en la última temporada de Vikings (spoilers)