Omega vs Danielson el último en unirse: Combates de TV que lograron trascender
El Omega vs Danielson se une a una lista de otros enfrentamientos de gran valor.
AEW hizo historia con uno de sus combates más trascendentales desde su creación. Kenny Omega vs Bryan Danielson tuvo todos los ingredientes para convertirse en un gran plato: calidad en el ring, tremendo ambiente, récords de asistencia para la empresa y una magia que hace tiempo no se encontraba. Es, para algunos especialistas, el mejor match ocurrido en TV.
Omega vs Danielson y otros encuentros
El duelo ya comienza a marcar diversos hitos, poniéndose en un podio donde solo algunos pueden entrar. Por eso, se me ocurre analizar aquellos choques ocurridos en semanales que dejaron huella.
Goldberg vs Hulk Hogan, WCW Monday Nitro 06.07.1998
La construcción de Goldberg en WCW fue excelente, más allá de la calidad del luchador, no se puede negar que el tipo sabía conectar con la audiencia como pocos. La empresa vio en él un diamante, dándole un invicto que lo posicionó por todo lo alto. Antes ganó el USA a Raven, también en Nitro, en un combate que es considerado como de lo mejorcito de Bill y que refleja lo over que estaba.
Sin embargo, el que trasciende fue la lucha por el campeonato mundial ante Hulk Hogan. Olvide los tecnicismos, acá el objetivo era otro, coronar al invicto ante la figura más relevante de la compañía. Un paso de antorcha que auguraba el cielo para Goldberg, sin embargo, esto era WCW y tan rápido como lo construyeron, lo terminaron arruinando. De todas formas, el primer y único título mundial conseguido por el hombre de la Spear en la empresa de Turner es un momento muy importante.
Mankind vs The Rock, Monday Night RAW, 04.01.1999
Consecuencias ultra-hiper-conocidas las que dejó este combate, pero no por ello, fundamentales de recordar. Al bueno de Tony Schiavone se le ocurrió decir en WCW que Mick Foley había logrado su primer título mundial, pensando que con aquel spoiler todos iban a quedarse en su producto. Foley es Foley, uno de los más queridos de la historia del wrestling, la gente fue en masa a ver su coronación y de ahí en más se acabó la guerra de los lunes por la noche.
El pop de la coronación y el pop que recibe Austin son hermosos, en un choque lleno de aroma attitude, de la mejor época comercial de la empresa. Para mí, el combate y momento más importante en la historia de un semanal de WWE. Y sí, también de la lucha libre en TV.
The Rock, Stone Cold y Vince McMahon vs Shane McMahon, Triple H y The Undertaker, Monday Night RAW 10.05.1999
Hubo una vez que RAW fue visto por 8.1 millones de personas. 1999, que me parece un año bastante inflado en cuanto al producto que ofrecía WWE (todo lo del Ministry y luego la Corporación me parece espantoso), es sin duda, su año más importante. Ventas, rating y popularidad. WWE por todo lo alto.
Y este main event es eso, nombres populares al servicio de ese caos que tanto nos cautivó cuando pequeños. Ni por lejos el mejor match de RAW, pero hombre, son 8.1 de rating, ¡la audiencia más alta en la historia de WWE y la lucha libre en TV! Algo que nunca más se repetirá.
Stone Cold y Triple vs Chris Benoit y Chris Jericho, Monday Night RAW 21.05.2001
Hilando fino, pueden haber mejores luchas que estas en RAW. En mi corazón, no. Y en el de varios otros, tampoco.
Para considerarla trascendente, resulta clave leer y escuchar todo lo que ha se dicho de este combate a lo largo de los años. Es que todavía es muy recordada, pasa el tiempo, y sigue siendo apuntada como de las mejores cosas vistas en un RAW. Lástima que la figura de Benoit puede empañar cierto análisis, pero si lo miras con el objetivo principal de este artículo, cumple con creces su presencia. El factor lesión de HHH y que haya seguido con la contienda, le da otro valor. El triunfo face, lo eleva. Un imprescindible.
Bryan Danielson vs Kenny Omega, AEW Dynamite Grand Slam 22.09.2021
Ya está todo dicho en nuestro sitio y se seguirá diciendo. 30 minutos, sin finishers, empate, ambientazo como pocos. De los mejores TV matches de AEW y en general. ¿Lo mejor de todo? Que te deja esa sensación que recién es el comienzo, así lo hizo sentir Bryan en redes sociales, y lo recibimos feliz. All Elite llegó para quedarse, estableciéndose cada semana más en rating y logrando superar sus propios récords de asistencia. ¿Hace 1 mes alguien se imaginaba este combate? Ahí radica gran parte de su trascendencia, con un dos veces main event de WrestleMania dando cátedra en otro lugar. Un dream match que se sintió como tal, de esos que perdurarán toda una vida.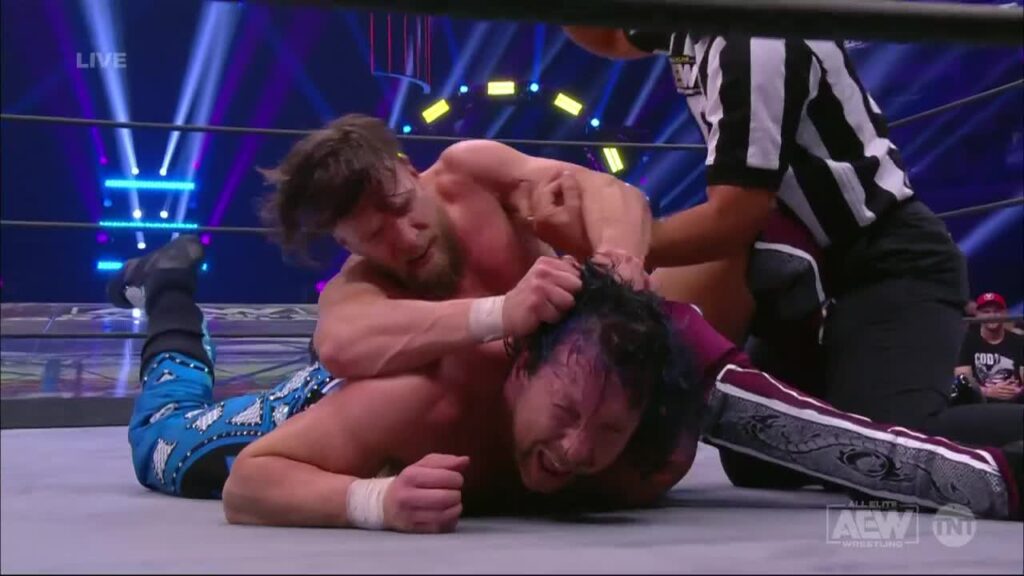 De momento, estos me parecen los combates más trascendentales en la historia de los shows semanales. Podemos encontrar buenas menciones honrosas como: TLC III; Cena vs HBK post WM 23; Cena vs Punk el 2013; Roman Reigns vs Sheamus el 2015 o Lita vs Trish el 2004. En WCW, agarras los DDP vs Sting por el campeonato mundial (del 98 y 99) o el Flair vs Savage del 96, y pueden entrar en la pelea. No los puse, porque si bien no dejan de ser grandes combates, les falta ese factor diferenciador que termina repercutiendo. O en algunos casos, porque sus luchas en PPV fueron más fundamentales (Cena vs Punk en MITB, por ejemplo).
¿Estás de acuerdo con la selección? ¿Alguna otra contienda que merezca estar en el listado o al menos ser mencionada?
En otros temas
Dave Meltzer por primera vez le da cinco estrellas a un combate de Bryan Danielson
Los hitos que dejó el Grand Slam de AEW
Muchos de estos combates irán apareciendo en los RAW vs Nitro