AEW y DAZN firman un acuerdo multianual para emitirse en 42 nuevos mercados de Europa y Asia
Un importante acuerdo firmaron AEW y la plataforma DAZN, lo que permitirá a la empresa de wrestling llegar a nuevos mercados.
Así, All Elite Wrestling se expandirá a 42 nuevos países en Europa y Asia, donde destacan Portugal, Dinamarca, República Checa, Finlandia, Croacia, Rumania, Turquía, Polonia, Noruega, Suecia, Serbia, Uzbekistán, Turkmenistán, entre otros.
Con más de 15 millones de suscriptores pagos, las personas que accedan a la aplicación en estos países podrán ver los shows semanales de Dynamite y Rampage, además de los cuatro especiales al año de Battle of the Belts.
También incluye los cuatro PPV anuales que realiza la empresa.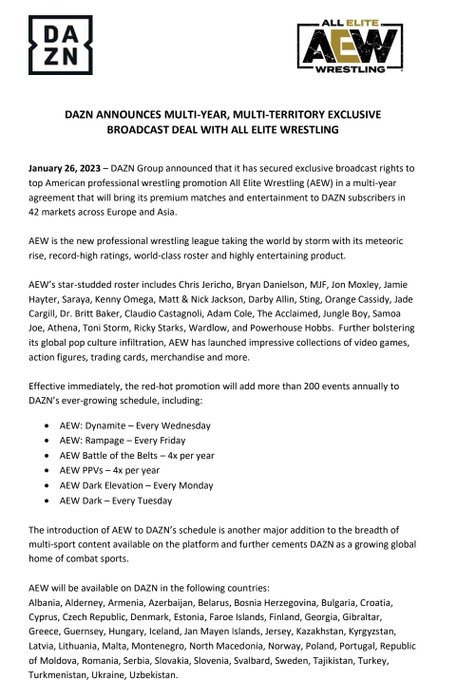 Cabe recordar que en países como el Reino Unido, Alemania o la India, AEW tiene presencia televisiva. No así en el caso de España, la gran ausente de este acuerdo.
Si bien desde un tiempo comenzaron a transmitir especiales del Battle of the Belts, de momento no se ha traducido en los Dynamite o Rampage.
Esto se suma, además, que hace un tiempo se informó que DAZN iba a contar tanto con AEW como IMPACT, pero todavía eso no pasa.
En otros temas