Dwayne Johnson acusado de boicotear "Shazam! Fury of the Gods"
En los cómics, Black Adam es uno de los grandes rivales de Shazam!, por eso, había altas expectativas entre los fanáticos de DC en verlos interactuando en el cine.
Desde The Wrap sostienen que esto no fue posible debido a que Dwayne Johnson no quiso. En el portal sostienen que el actor que dio vida a Black Adam prefirió que esa contraparte fuera el Superman de Henry Cavill.
Por eso, no permitió que Shazam! tuviera un cameo en su película:
"Dwayne Johnson trata de venderse a sí mismo como más grande que la película. Es una de las pocas personas que siempre piensa que es la persona más importante en cualquier situación o habitación. En lugar de hacer una película, quiere extender su marca y hacer una marca centrada en sí mismo", señalaron desde el portal.
Además, se informa que también vetó una escena post-crédito en la última Shazam! donde Black Adam se habría mostrado a la Sociedad de la Justicia encabezada por Hawkman reclutando a Shazam.
La polémica no se detuvo ahí, ya que Zachary Levi, el actor detrás de Shazam, contestó lo siguiente en su cuenta de Instagram: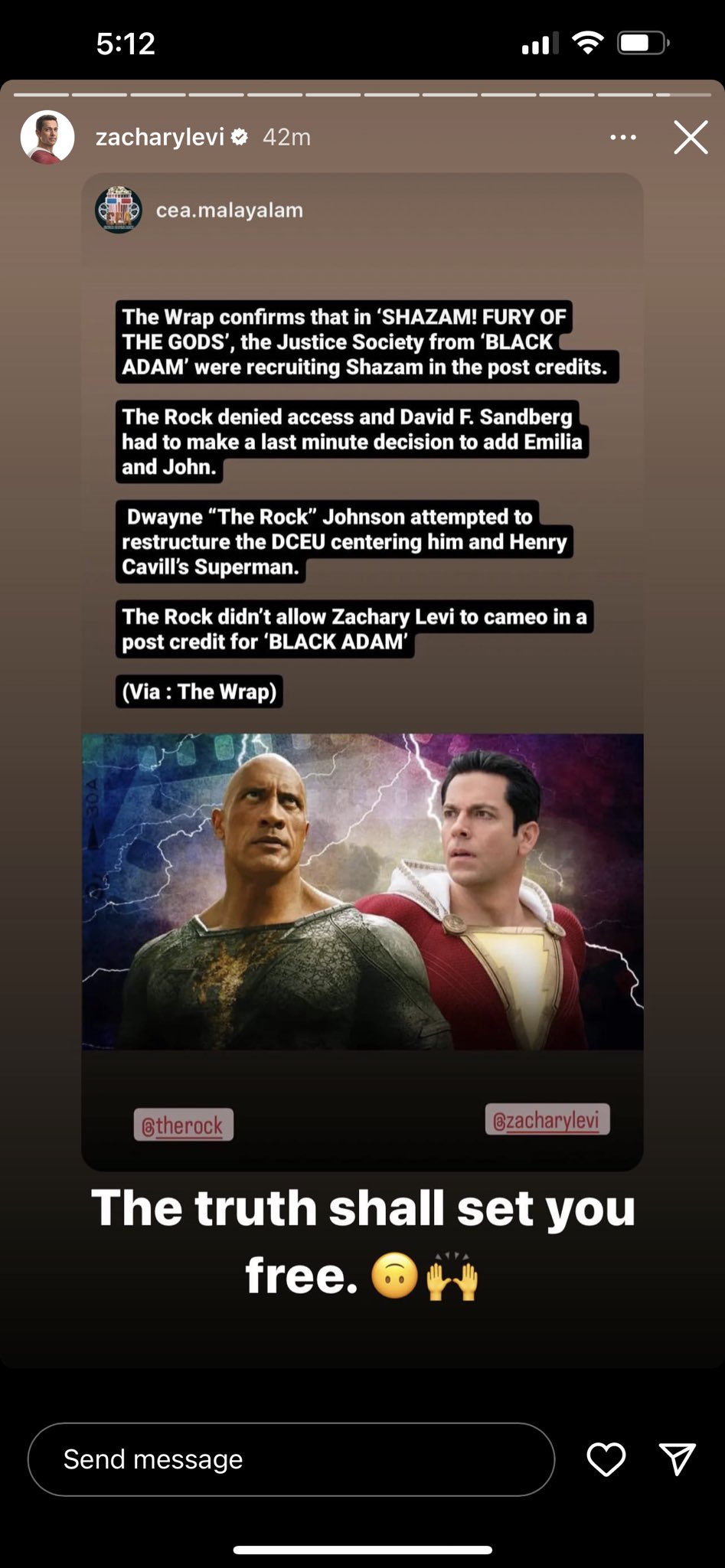 Con Black Adam fuera del reinicio de DC tras la llegada de James Gunn y con Fury of the Gods teniendo un arranque muy malo en taquilla, la situación solo empeora.
En otros temas
Cartelera actualizada WWE WrestleMania 39
Resultados Lucha Libre AAA: Lucha Libre World Cup 2023
Konnan de Lucha Libre AAA habría arreglado diferencias con Tony Khan de AEW