06 de mayo de 1996, Monday Nitro 34, Daytona Beach, Florida. Rating: 1.9
Randy Savage vs Hugh Morris.
Meh.
A Savage se lo llevan árbitros y tipos de backstage porque le dio la locura, todo en medio de la ya redundante rivalidad con Flair, que estuvo todo el programa brindando con sus acompañantes olvidando que perdió el título hace una semana…
Jushin Thunder Liger vs Dean Malenko.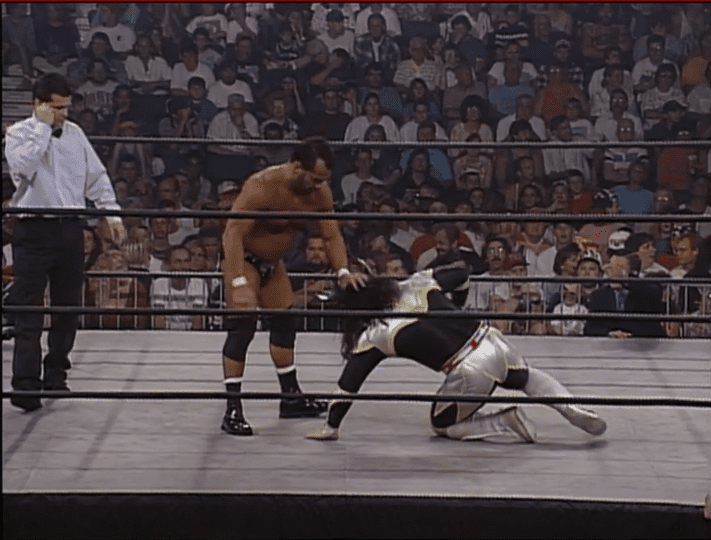 Los comentaristas y las cámaras pusieron mayor énfasis en Nature Boy, por lo cual este encuentro ni se ve en pantalla. Lo poco son compases bien interesantes de una división que empezaba a agarrar vuelo.
Lord Steven Regal vs Sting.
Nada sobresaliente, más allá de lo over que está el Stinger.
Eyaculando por Sting
The Giant vs Jim Duggan.
Squash para poner over al reciente campeón mundial. Lo interesante ocurre luego, con Sting atacando al gigante ante la emoción del público y con Luger interrumpiendo todo, generando un nueva discusión en los campeones en parejas. Y ah, siendo justos, antes Flair igual atacó al campeón.
Tema aparte, porque se me olvidó en el día anterior y no recuerdo si en las revisiones de Nacho habían salido. WCW empezaba a mostrar viñetas sobre un nuevo luchador en camino: Glacier. Se sabe que la empresa tenía altas esperanzas en su versión de Sub-Zero del Mortal Kombat, pero al final fue todo un fracaso del cual hablaremos en su debido tiempo.
06 de mayo de 1996, Monday Night Raw 158, Sioux City, Iowa. Rating: 4.1.
Marc Mero (con Sable) vs 1-2-3 Kid.
Victoria para el Wildman que sigue desarrollando una rivalidad con Hunter Hearst Helmsley, quien estuvo de comentarista en la mesa de transmisión. Que aproveche estos momentos de importancia antes que Sable lo carree.
Davey Boy Smith vs Fatu.
El Bulldog necesitaba una victoria importante y qué mejor frente a un tipo que desde que comenzamos este proyecto no ha realizado nada relevante. Ya llegará Rikishi para regalarnos ese estúpido heel turn.
La historia entre el británico y HBK agarra nuevos tintes, luego que una ex esposa de un luchador, acusa (sin mostrar su nombre ni rostro) al campeón de ser un "rompe hogares". Parece que en rating funcionó esta telenovela (bueno, es cosa de ver las visitas en Youtube de la historia Lana/Rusev/Lashley), porque en este día arrasaron contra la competencia.
Skip & Zip vs Techno Team 2000.
!Comienza la leyenda del Techno Team 2000! Recuerdo que cuando empecé a tener Internet de forma regular, seguía un Fotolog (caída de carnet) de un fanático del pro-wrestling que dedicaba post a hablar de las parejas que fracasaron en WWE. Y bueno, la emoción me embriaga. Debut con derrota ante los campeones, como debe ser.
The Undertaker vs Owen Hart.
Owen lo intentó, pero no hubo caso. Tampoco es algo horrible, salva, en especial por un genial Goldust dando vueltas por ahí que termina huyendo despavorido luego que Paul Bearer trajera una ataúd. En el próximo PPV tendremos al Taker versus el dorado, momento clave en la carrera del hombre muerto.
Flojito día este 31. ¿Qué hacemos entonces? Tampoco es tan difícil, porque lo de este Nitro me pareció un disparate, de una incoherencia tremenda. Al menos en WWE tuvimos nuevos hilos en las historias. 
Raw 14 Nitro 17.
Mientras que en PPV´s, el dominio es de WWE:
WWE 5 WCW 1.