Resultados Monday Night RAW 07.12.2020
Llegamos a otro lunes de Monday Night RAW y como cada semana les traemos lo más destacado del show. ¿Qué fue?
Orton y Wyatt son los encargados de abrir esta edición de RAW dedicada a Pat Patterson con un segmento donde la víbora advierte a Wyatt sobre su lucha en TLC afirmando que él no necesita una máscara para dejar salir su lado malo, Bray interrumpe desde la pantalla para convertir esto en un programa de concursos junto a sus peluches, donde las preguntas consisten en como deberá enfrentar a Orton en TLC. Randy pide un combate contra Wyatt esta noche, pero sin su alter ego de The Fiend, a lo que Bray acepta emocionado.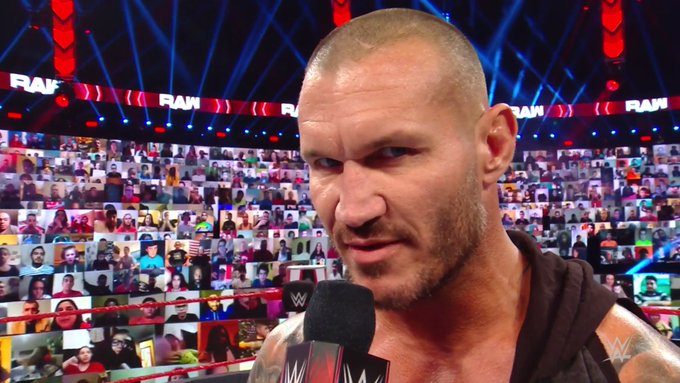 Luchas dignas de PPV arruinadas por el bookeo
Lucha entre la campeona de RAW Asuka acompañada de Lana y Shayna Baszler junto a Nia. En otras condiciones esta sería una lucha digna de PPV, pero acá tenemos una lucha que se ve lastrada por las intervenciones y los cortes comerciales. Finalmente Shayna se distrae con Lana y Nia quienes tienen un intercambio al exterior del ring, acto que Asuka aprovecha para llevarse la victoria con un Roll-up.
Fitibution rellenando como siempre
Encuentro de parejas mixtas con Slapjack y Reckoning enfrentando a la dupla conformada por Ricochet y Dana. La lucha es lo mismo de siempre con Retribution jobbeandole a los rivales en turno. Finalmente Dana aplica un Sitout Slam a Reckoning para la cuenta tres. Tras la lucha Ali vuelve a recriminar a Reckoning por su derrota.
Drew está listo para AJ y compañía
Tenemos un segmente de Miz TV con el Phenomenal One como invitado. AJ habla sobre su estrategia para vencer a McIntyre en TLC, Miz y Morrison ponen en duda la lealtad del irlandés, por lo que Sheamus decide salir para aclarar que él nunca traicionará a Drew, ya veremos… El campeón sale a escena y limpia la casa junto a Sheamus, dejando claro que no les tiene miedo.
The New Day vs The Hurt Business… otra vez…
Y tenemos más relleno, ahora de la mano de Kofi y Shelton, personalmente me comienzo a cansar de ver cada semana la misma lucha entre Ney Day y The Hurt Business, seriedad, esta lucha se lleva repitiendo desde el Draft. Finalmente Kofi conecta Trouble in Paradise para la victoria. Finalizado la lucha Alexander reta a Kofi a otro combate, mismo que termina con la victoria del heel, ya dejen de alargar esta wea.
¿Se terminó la amistad en este RAW?
Lucha en desventaja donde McIntyre y Sheamus unen fuerzas para medirse al Team Peleles conformado por Miz, Morrison y Styles (lo siento Walter, pero ambos sabemos que las cosas son así). La lucha es rápidamente dominada por los face, quienes lucen cómodos pese a la diferencia numérica. Finalmente Sheamus conecta a McIntyre con la Brogue Kick por accidente, acto que AJ aprovecha para impactar de lleno su Phenomenal Forearm sobre Sheamus para la victoria de su equipo.
Sheamus es entrevistado en backstage mientras intenta explicar que la patada no fue intencional, McIntyre aparece y el irlandés le pregunta ¿si sabe que no fue intencional? Ambos se miran fijamente y se van a los golpes, aunque no pasa a mayores… ¿o sí?
Se vienen los Hardy Bros…
Ahora es el turno de Jeff Hardy quien se enfrenta a Bobby Lashley en una lucha donde el heel se muestra imponente pese a los esfuerzos de Hardy por recuperar el control del encuentro, MVP intenta distraer a Jeff, pero Riddle llega para hacer el salve ¿Se viene el Team Weed, entrando con efectos de humo propios? Finalmente Lashley conecta su Spear y cierra con su Full Nelson para coronar su obra.
La víbora contra el teletubbie
Lucha estelar de la noche entre Randy Orton y Bray "El Teletubbie" Wyatt, Randy va con todo desde un principio, pero Wyatt solo se ríe ante sus múltiples embates. No deja de parecerme interesante que Orton era quien mostró más actitudes de heel durante el encuentro. Finalmente las luces se apagan, RKO y The Fiend aparece para atacar a Randy con su Mandible Claw.
En general fue un RAW bastante mediocre con luchas de relleno, además creo que está claro que AJ solo será un rival de transición antes de que Sheamus entre en rivalidad con Drew.
También te podría interesar
The Man dio a luz a su bebé ¿Rodilla habrá aprendido a vender el daño?
Hablando de shows mediocres, ¿qué tal habrá estado el último TakeOver?