Resultados de IMPACT Wrestling 05.01.2021
Bienvenidos al primer IMPACT Wrestling del 2021 camino al PPV Hard To Kill. Por eso, se siguen desarrollando las historias.
Sean bienvenidos a la primera edición de IMPACT Wrestling del año 2021 y donde continuamos el camino al PPV Hard To Kill.
Duelo para calentar la Super X Cup del evento Genesis. Un spotfest entretenido donde los involucrados dieron lo mejor de su repertorio aéreo. Destacaría más la labor de Ace Austin quien lució bien en su papel de oportunista y quedó a puertas de la victoria, del mismo modo debo destacar la performance de Blake Christian que se vio ágil y llamativo, especialmente en sus intercambios con Austin. La victoria de todos modos se la roba Crazzy Steve con un Super DDT sobre Navarro.
Sami Callihan realiza una promo desde su base ICU. El hacker menciona que todos tenemos un propósito en la vida y el de Eddie Edwards es perder. Cierra su discurso diciendo que cualquier cosa pueda pasar esta noche.
Kenny Omega está en backstage junto a Don Callis y The Good Brothers. Los ex miembros del Bullet Club hablan de sus experiencias juntos y lo mucho que se conocen, en cambio Rich Swann y Motor City Machine Guns son buenos pero no tienen química. El campeón mundial de AEW dice que en Hard To Kill demostraran lo que su "familia" puede hacer.
Cousin Jake y Rhino vs Cody Deaner y Joe Doering (Con Eric Young)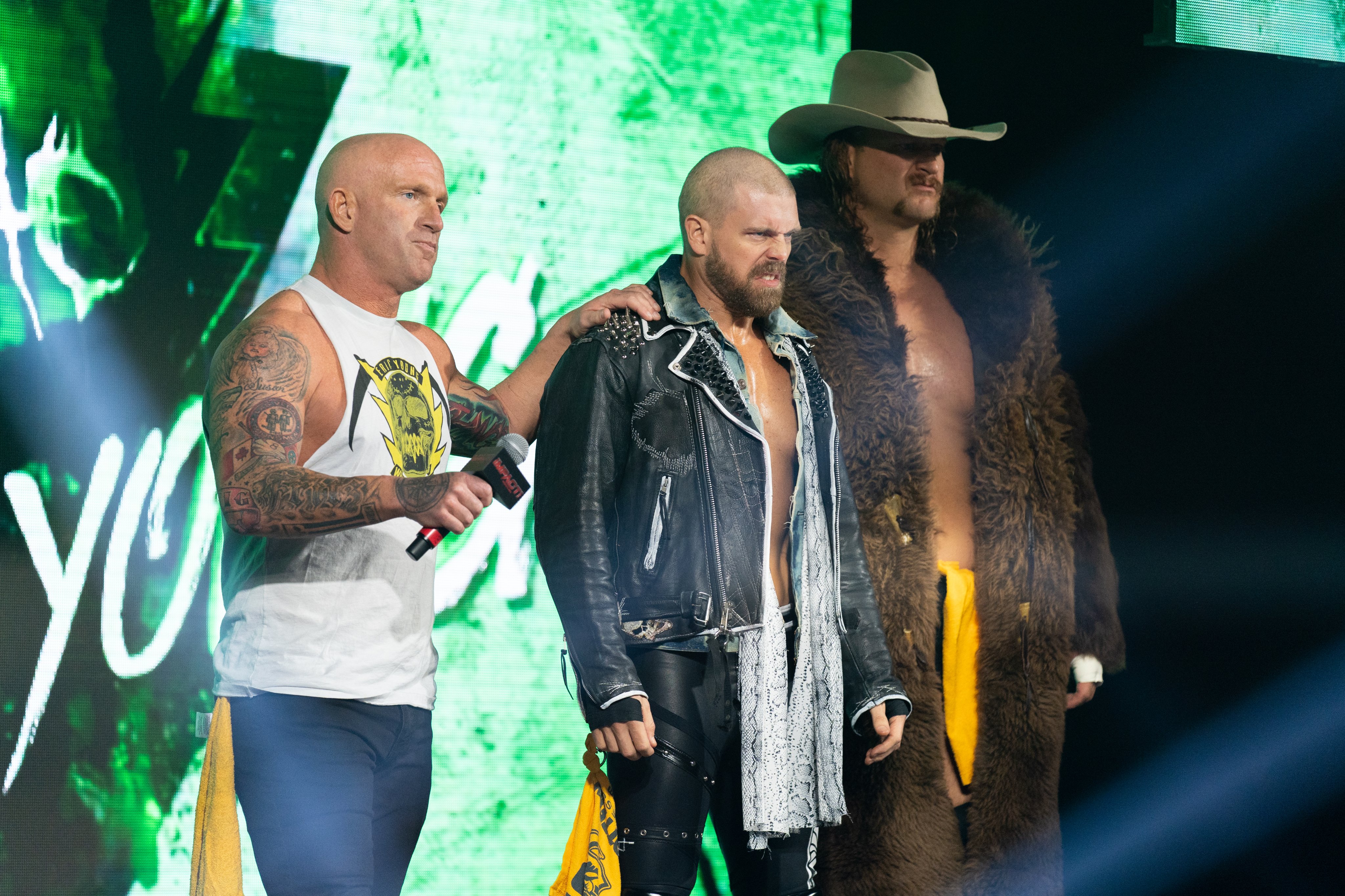 Primero que nada, resaltar el nuevo look de Cody tras su bautismo y hecho que ha permitido que moldee una personalidad algo más agresiva, como se vio cuando Cody ataca sin piedad a Jake. Rhino fue el relevo que buscó emparejar las cargas y dejó a Jake con la sartén por el mango para rematar a su primo, pero se vio incapaz de hacerlo. El nuevo protegido de Eric Young no mostraría misericordia al aplicar un golpe bajo a Jake y rematarlo con un DDT para la llevarse la victoria.
Tras el combate, Eric Young y sus secuaces atacan a los faces pero Tommy Dreamer sale en su defensa y desafía al stable del maníaco a una lucha sin descalificaciones por equipos en Hard To Kill.
Deonna Purrazzo y Taya Vakraye discuten en el ring donde ambas féminas calientan su encuentro para Hard To Kill. "The Virtuosa" menciona todas las pérdidas que ha tenido en los últimos meses, mientras que la Wera Loca dice que el reinado de Purrazzo caerá en el PPV.
Jordynne Grace & Jazz vs Havok y Nevaeh, Semifinal del torneo por los titulos en parejas de Knockouts
Combate correcto. La dinámica de Jordynne y Jazz funcionó mejor que la vez pasada, neutralizando a Nevaeh y dejando a Havok sin posibilidades del hot tag. Havok al final obtendría el relevo para limpiar la casa, y tras algunas idas y venidas lograría conectar con un Pilerdriver sobre Jazz para la victoria.
The Motor City Machine Guns y Rich Swann son entrevistados en backstage acerca de su combate en Hard To Kill. Ambos mencionan que harán respetar la casa y no esperarán al PPV para poner las manos encimas al "Elite Club" porque los buscarán ahora mismo en su bus.
Los Guns y Swann buscan a los chicos malos pero son asaltados por estos a las afueras del bus. Ambos grupos intercambian golpes pero la combinacion de "The Good Brothers" y Omega se impone, dejando tendidos a los faces.
En backstage, Jodynne Grace se disculpa con Jazz por caer derrotadas en el torneo a lo que la leyenda de la lucha femenina le dice que no tiene que lamentarse. Grace desafía a Jazz a un duelo amistoso para Genesis.
Moose vs Matthew Palmer, reto de 3 minutos
Moose hizo pico al esposo de Ember Moon durante todo el encuentro, pero justo cuando "The Wrestling God" iba a rematarlo Willie Mack lo distrajo para que Palmer ganara por límite de tiempo.
Ethan Page está siendo atendido por un psicólogo acerca de sus últimos problemas. El psicólogo resulta ser The Karate Man y tras discutir, ambos parecen pactar un encuentro para Hard To Kill.
Eddie Edwards vs Sami Callihan
Ambos luchadores se enfrascan en un buen brawl antes de sonar la campana, donde se atacan con una silla y estrellan contra la barricada, en el proceso Callihan es quien llevaba más la delantera pero tras iniciar la acción al ring todo se descontroló provocando una doble descalificación. Lo que estaba siendo un buen match acabó de una mala forma, pero la justificación se debía a lo que pasó después.
Eddie tras el encuentro esta por rematar a Callihan, pero se ve distraído por una filmación donde su esposa está secuestrada. Edwards corre para rescatarla pero Ken Shamrock aparece para atacarlo y junto al Hacker enrollan al Psycho Wolf en un alambre de púas y rematan con un golpe usando el bate de Callihan.
Poco después de que IMPACT saliera del aire, se hizo oficial un nuevo combate para Hard To Kill. Eddie Edwards y Sami Callihan se volverán a enfrentar, esta vez en un BARBED WIRE MASSACRE.