Resultados UFC 264: Poirier vs. McGregor 3
Una nueva velada de mma a cargo de UFC 264, con la esperada revancha de Conor McGregor frente a Dustin Poirier.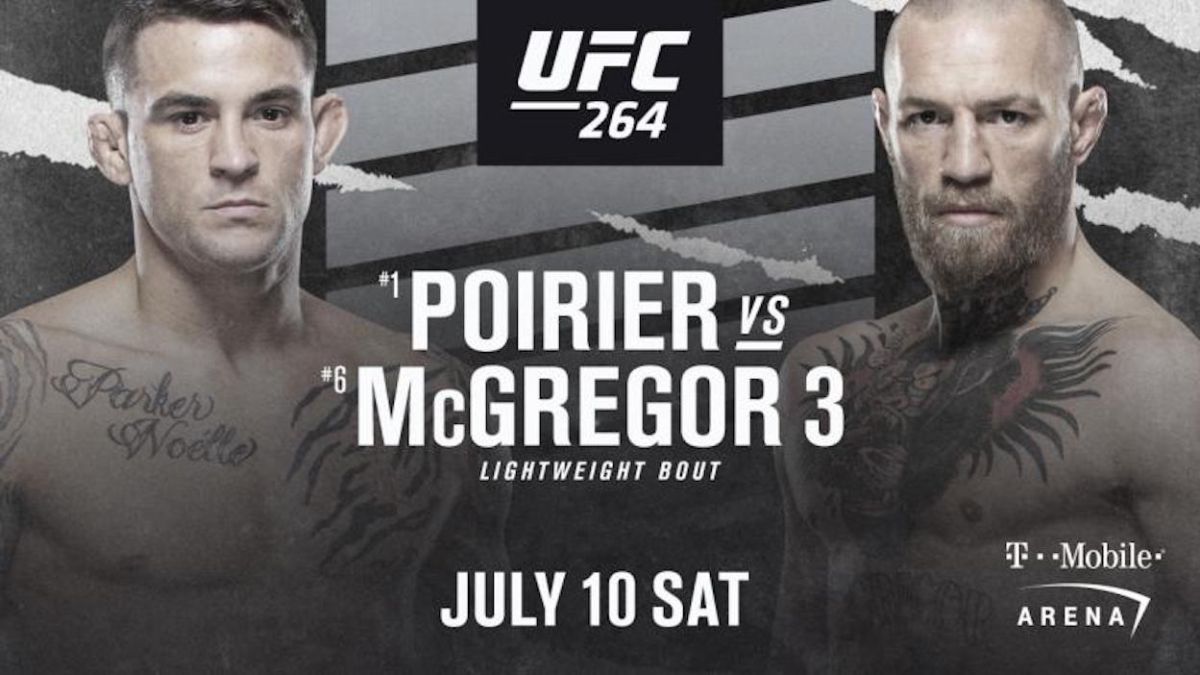 UFC 264 viene con la esperada tercera parte de la rivalidad entre Conor McGregor y Dustin Poirier. Veremos si el irlandés logra poner finalmente la balanza a su favor o se abre paso una nueva estrella mediática al derrotar al emblemático peleador de UFC.
Cartelera Preliminar Inicial UFC 264
Zhalgas Zhumagulov derrotó a Jerome Rivera por Sumisión (peso mosca)
Brad Tavares derrotó a Omari Akhmedov por Decisión (peso mediano)
Jennifer Maia derrota a Jessica Eye por Decisión Unánime (peso mosca)
Cartelera Preliminar UFC 264
Trevin Giles derrota a Dricus Du Plessis por TKO (peso mediano)
Ryan Hall derrota a Ilia Topuria por TKO (peso pluma)
Niko Price derrota a Michel Pereira por Decisión Unánime (peso welter)
Carlos Condit derrota a Max Griffin por Decisión Unánime(peso welter)
Cartelera Principal 264
Sean O'Malley vs Kris Moutinho (peso gallo)
Round 1: O´Malley controla la distancia y conecta un volumen abismal de golpes. Deja en mala posición a Moutinho en varios momentos, al borde del TKO. El vicio de telegrafiar los golpes con los hombros hace que O´Malley tenga pocos problemas para leer y esquivar.
Round 2: La tónica se repite y Moutinho recibe mucho castigo de las manos de su rival. Sin embargo, O´Malley ya muestra indicios de cansancio: respira por la boca, tiene más problemas en salir de la pared de la jaula y necesita dejar una mano adelante para alejar a Moutinho.
Round 3: O´Malley intenta arriesgar menos y confía en el footwork para alejarse de Moutinho. Sin embargo, debe recurrir a patadas frontales cada vez más frecuentes para crear distancia y evitar a su oponente. Una metralla de golpes le da la victoria a O´Malley.
Sean O´Malley derrota a Kris Moutinho por TKO.
Irene Aldana vs Yana Kunitskaya (peso gallo)
Round 1: Irene toma las cosas con calma controlando el centro del octágono y conectando a una distancia segura. Yana toma una estrategia demasiado arriesgada, busca el clinch y la pelea cercana sin buscar aperturas con el jab. Como resultado, la mexicana usa su peso y cansa rápidamente a la rusa en el clinch. No pasa mucho hasta que la rubia se cansa y la mexicaba conecta la mano que le da la ventaja absoluta, todo termina en el ground and pound.
Irene Aldana derrota a Yana Kunitskaya por TKO
Tai Tuivasa vs Greg Hardy (peso pesado)
Round 1: Hardy empieza bien, demostrando mejor timing en un golpe en el inicio. Pero Tuivasa resiste y logra conectar la mano que le da la victoria rápidamente.
Tai Tuivasa derrota a Greg Hardy por KO
Gilbert Burns vs Stephen Thompson (peso welter)
Round 1: Burns apuesta por un primer round imponiéndose con el control en el piso. Probablemente parte de la estrategia para agotar a un rival que pueda finalizar por vía del TKO en los rounds posteriores. El volumen de golpes también queda del lado de Burns.
Round 2: Burns sigue buscando derribos y sumando puntos de control. Stephen Thompson busca golpes significativos, pero no entra del todo en la guardia de Burns.
Round 3: Thompson cambia el curso del combate por unos momentos con una patada giratoria que deja en mala posición a Burns, pero este ya tiene el derribo programado en su cuerpo cuando siente daño y lleva la pelea al piso.
Gilbert Burns derrota a Stephen Thompson por Decisión Unánime
Dustin Poirier vs Conor McGregor (peso ligero)
Round 1: El encuentro entre zurdos comienza con un McGregor que conecta varias patadas al cuerpo. Poirier intenta emparejar el volumen de golpes, pero decide pasar al derribo. En el ground and pound, Poirier se impone por varios momentos con codazos, pero no logra el TKO. Una mala posición en el intercambio lleva a que Conor se fracture la pierna al final del round.
Dustin Poirier derrota a Conor McGregor TKO (con Decisión del Médico).
Tal vez te interese
Conor McGregor podría ser multado o sancionado por el incidente frente a Poirier durante el pesaje