Razor Ramon en la piel de Scott Hall
No recuerdo si vi Scarface primero o a Razor Ramon. Probablemente fue la película de Brian de Palma, pensando que cuando comencé mi aventura con la lucha libre, Scott Hall se encontraba en WCW y su personaje más influyente quedaba en los archivos.
Lo que sí recuerdo, a pesar del inevitable paso del tiempo, fue el impacto y sensaciones que me generaron tanto la cinta (en especial Tony Montana) y Razor Ramon. La definición del chico malo en el cine, traspasada al wrestling. Hall, al igual que varios, quedó maravillado con la cinta de 1983 y tomó aspectos relevantes para cumplir su sueño de llegar a WWE.
Este inmigrante cubano, con el mondadientes en la boca, trajes estrafalarios, cadenas en el cuello, un chulo cool y arrogante que hablaba lento, pero seguro, se presentó a través de viñetas para terminar debutando en agosto de 1992. Desde Miami, Florida, fue presentando. Hall nació en Maryland, Washington DC. Era ver a Tony, ese rol que inmortalizó Al Pacino.
"Say hello to the bad guy", señalaba al público, recordando el "Say goodnight to the bad guy" de Montana en un restaurante. Frase mítica, de esas que quedan en la retina para siempre, como el "chico", otra memorable. Nacía una estrella para el wrestling.
Hall se transformó en Tony Montana dotándolo de aspectos propios, porque acá no iba a andar disparando a rivales o no iba a ser presentando con un tigre como mascota. Agarró principalmente las características del rol para reflejar esa cultura latina que cree estar viviendo el sueño americano. El poder del capo en Tony Montana, el "Machismo" en Razor Ramon. El cuatro veces Campeón Intercontinental se empapó a tan nivel de compromiso, que quedó marcado como el "Bad Guy" para siempre.
Son pocos lo que pueden lograr eso, donde Stone Cold Steve Austin sería otro caso. Interpretan tan a la perfección esos roles que logran que sean parte de ellos, un acto natural, que fluye de forma genuina. Razor ya era parte de Scott Hall, lo fue en WCW, lo fue en otras aventuras. Y daba lo mismo que estuviera con una polera de la NWO y unos jeans, o con unos truzas del kliq. Los movimientos, el lenguaje corporal, las miradas, la tonalidad, la pronunciación y tono de voz, no eran más que una extensión de aquello. De forma coloquial, Razor se devoró a Scott. Yo prefiero llamarlo como la hermosa capacidad de haber encontrado un sello, una marca, un estilo de vida que para bien o mal, era tu impronta.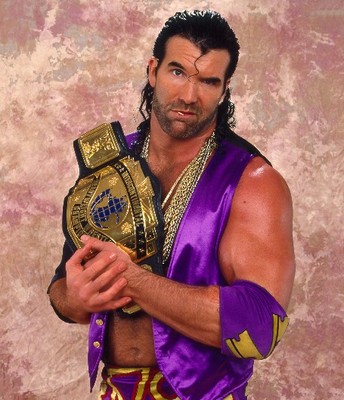 Y digo mal porque todos sabemos que Scott convivió con los excesos y que probablemente eso nos privó de verlo como Campeón Mundial (y de que muriera tan pronto), una deuda que a varios fanáticos nos duele. Aún así, no necesitó un título máximo para calar hondo gracias a un personaje de la puta madre. Gracias, en definitiva, a ser simplemente como era.
Porque Hall no era perfecto, con vicios y actitudes controvertidas. No era un santo, como tampoco un demonio. Sencillamente era un chico malo. Es Razor Ramon en la piel de Scott Hall.
En otros temas
El mundo de la lucha libre llorando su partida