Llegamos a la versión 1996 de uno de los PPV´s más grotescos de WCW. El World War 3 era una mala copia del Royal Rumble de WWE.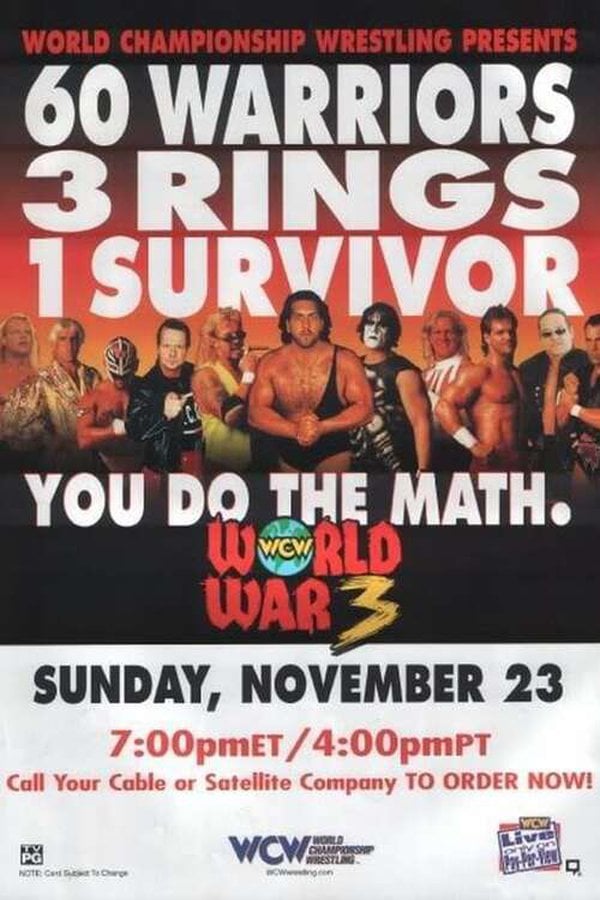 La gracia de este PPV se hacía una batalla real que transcurría en tres rings al mismo tiempo y con 60 hombres distribuidos entre los tres. Cuando quedaban solamente 20 luchadores en pie, estos se unían en una última batalla real. Como podrá imaginarse, eran combates largos, desordenados, inconsistentes y en general… nefastos. Una idea inviable que llevaron a la pantalla.
Último Dragon (c) vs Rey Misterio Jr, J-Crown Championship
El Dragon defendía el J-Crown Championship, ese título que se había hecho a partir de la unificación de 8 títulos distintos, entre las divisiones junior de varias empresas. Y vaya que lucía extraño cargando tantos cinturones. El combate resultante con Rey es bueno y sin dudas, lo mejor de una jornada mediocre. No obstante, no es de antología, como algunos han vendido. 
La estructura del match es un dominio muy largo del Dragón, en el cual inhabilita absolutamente a Rey. Vemos como Mysterio falla cada reversal entre Leglocks, Brainbuster y el gran dominio de técnicas del japonés. Me agradan las storytellings con los dominios largos de un heel y luego la gran remontada del babyface. Funcionan, porque de plano, la gente puede empatizar mejor con la posición del face, más si es un underdog como Rey.
El problema de este encuentro es que el comeback de Mysterio no estuvo a la altura de toda la paliza que le da el Dragón. No vemos ese gran spot que justifica que el match se de vuelta. Y lo ameritaba absolutamente. El japonés solamente minutos antes, le había plantado a Rey una Tombstone Piledriver en ringside. En cambio, el latino no es capaz de hacerle algo igual de potente al Dragón. 
La fase final al menos cumple, entre diversos Roll-ups y la búsqueda de las espaldas planas. Hasta que Mysterio salta impulsándose con las cuerdas y es interceptado por el Dragón, quien acto seguido transforma al vuelo el move en un Tigerbomb.
Valoración: 3 jumbitos y medio.
Chris Jericho vs Nick Patrick
La rivalidad entre Jericho y el referí del NWO Nick Patrick, tiene sentido y es una propuesta original con respecto a lo convencional. Y de ahí sale la idea de enfrentarlos en el PPV. Para contrarrestar la obvia superioridad de un luchador profesional como Y2J, este luchó con una mano atada a la espalda.
El problema de esto es que, si querían hacer de esto un combate en PPV, Jericho debió haber enfrentado a un luchador que apoyase a Patrick. Por más que Y2J era un tipo capaz de mamarse un carryjob, estamos hablando de un árbitro, no un tipo con muchas cualidades en el ring o experiencia reciente en el ring. 
Hay combates más que buenos entre luchadores y no luchadores, pero el planteamiento tiene que ser excepcionalmente bueno para que resulte y acá no pasó. Combate muy del montón y que, para tener menos de 10 minutos, se hace hasta un poco largo. Al menos ganó Jericho.
Valoración: 1 jumbito.
The Giant vs Jeff Jarrett
Jarrett y el Giant (Big Show) no fueron capaces de dar algo sobresaliente antes y ahora, más encima nos encontramos con algo de overbooking. Mientras que el referí estaba distraído, apareció Sting y le propinó el Scorpion Deathdrop a Jarrett para que el Giant pudiese servirse el pin.
Valoración: 1 jumbito 3/4.
Aunque Sting estaba comenzando un gimmick que la rompería absolutamente, creo que inicialmente, no estaban muy seguros en dónde meterlo. Solamente tuvo esta aparición en el PPV, ya que no hizo presencia en el main event. ¿Y para qué? ¿Para seguir sembrando dudas con respecto a si estaba o no con el NWO?
Harlem Heat (Booker T y Stevie Ray) vs The Amazing French Canadians (Carl Ouellet y Jacques Rougeau)
El Harlem heat ganó en un match bastante del montón.
Valoración: 2 jumbitos.
Sister Sherri vs Robert Parker
Combate entre la mánager no luchadora del Harlem Heat y el mánager no luchador de los canadienses. Nefasto.
Valoración: DUD.
Dean Malenko (c) vs Psicosis, WCW World Cruiserweight Championship
Match calificado como una decepción en diversos medios. Aunque sería injusto decir que Malenko y Psicosis dieron una performance nefasta, de lo peor del PPV, se marcan un aprobado nada más. El combate tiene mucho grappling e intercambios de interacciones, pero lamentablemente, estas se sienten muy insulsas. Sin un tipo con más alma como Rey Mysterio, comenzamos a ver a Dean en modo "robot", con sus renombrados problemas de carisma.
Lo peor, es que uno de los spots claves del match, hay un botch muy feo. Psicosis saltó fuera del ring y en vez de lanzarse contra Malenko (quien tenía que esquivar el ataque) cayó directamente sobre la barricada. Finalmente, el campeón crucero retuvo.
Valoración: 2 jumbitos 3/4. 
The Outsiders (Kevin Nash y Scott Hall) (c) vs The Faces Of Fear (Meng y The Barbarian) vs The Nasty Boys (Brian Knobbs y Jerry Sags), WCW World Tag Team Championships
Los Outsiders calzaba bien como equipo. Pero la gente a la que derrotaron en este match eran bultos en general. Poco que destacar en esta defensa.
Valoración: 2 jumbitos.
Three Ring 60 Man Battle Royal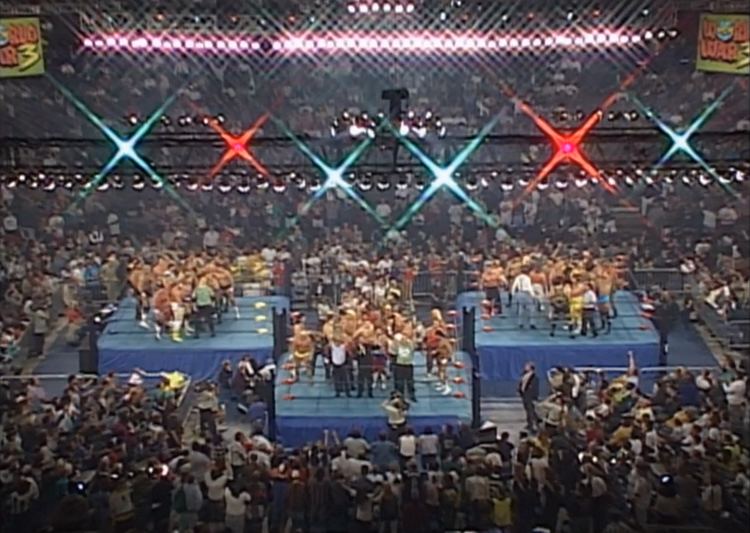 Como era de esperarse, repelente. Lo peor es que cuando ya nos comimos como 2/3 del combate y llegamos al ring final, tampoco es que haya un subidón enorme de calidad in-ring. Eddie, Rey y Regal son eliminados sin ceremonias como absolutos peleles, y el match queda entre Lex Luger y los 4 tipos del NWO: Nash, Hall, Sixxx (X-PAC) y The Giant. Así es, una vez más vemos como las amistades de X-PAC le daban un bookeo muchísimo más fuerte del que merecía.
Luger pudo despacharse a Nash, Hall y Sixxx, pero es sorprendido por The Giant (su eterno papá vale decir) y este se hizo con la victoria del match. Me estremezco al leer a gente que dice que por el PPV y ese combate, fue el mejor World War III de todos. ¿Cómo habrán sido de horribles los otros?
Valoración: DUD.
 ¿Qué ganó el Show con esto? Una oportunidad titular por el título mundial, pero no en Starrcade, sino que en un PPV menor. Creo que acá vemos el gran contraste con el Royal Rumble (de esos años). El hombre que ganaba el Rumble retaba en WrestleMania, acá en cambio, ese cupo lo tenía Roddy Piper… solo porque era Roddy Piper. A propósito de Piper, su gran aporte en el PPV fue un segmento donde firmaba por ese combate junto a Hulk Hogan. 
Contra lo que puedan alegar los nostálgicos poco dados a sacarse los bistecs de los ojos, es un PPV terrible en su mayor parte y queda bastante por detrás de lo visto en Survivor Series 1996, el otro PPV de noviembre. Por tanto, así queda la competencia de PPV´s:
WWE: 8. WCW: 5.
El cuadro cambia en tanto, si miramos el duelo de shows semanales:
RAW: 25. Nitro: 33.