Continúamos tras lo sucedido en ese desastre llamado Slamboree. 
20 de mayo de 1996, Monday Night Nitro 36, Monroe, Louisiana. Rating: 3.1.
Fire And Ice (Ice-Train & Scott Norton) vs. The Steiner Brothers (Rick Steiner & Scott Steiner).
Pocazo que rescatar.
Ric Flair vs Eddie Guerrero.
Más que recomendable encuentro de 20 minutos, de esos donde uno puede decir "acá hay una potencial estrella". Eddie no tenía un personaje  y se le presentaba sencillamente como un buen "wrestler", que claro, lo era, pero faltaba que lo moldearan en el apartado "entretenimiento" para pegar más en la gente. A pesar de eso, acá hace una labor de maravillas involucrando a la grada a su favor y parándose de igual a igual ante una leyenda como el "Nature Boy".  Hay mucho de Flair, por supuesto, un tipo que de heel con sus trampitas sabe hacer lucir bien al face de turno.
Este combate le da mil vueltas a todo lo realizado en el PPV. Además, pensando en lo que viene después donde el ex campeón mundial estará involucrado en el debut que nadie quiere ver de  Steve McMichael, es más notable aún. 
Valoración: 3 jumbitos 3/4.
Lex Luger & Sting (c) vs The Faces Of Fear (Meng & The Barbarian), WCW Tag Team Championship.
No es la mejor defensa que le he visto a los campeones a lo largo del proyecto pero para sus 10 minutos de duración está ok.
Diamond Dallas Page vs Brad Armstrong.
Lo mejor viene en el post-match cuando Gene Okerlund anuncia que DDP no podrá hacer realidad su oportunidad por el título mundial debido a algo que ya no me acuerdo. No retará a Giant en el próximo evento, será Luger quien tome su lugar.
The Giant (c)  vs Arn Anderson, WCW World Heavyweight Title Match.
A pesar que es prácticamente un squash, me agrada que Giant defienda constantemente su título.
20 de mayo de 1996, Monday Night Raw 160, Sioux City, Iowa. Rating: 2.3.
Steve Austin vs Marc Mero (w/ Sable).
Muy interesante choque de esos que te gustaría ver en mejores condiciones, esto porque terminó en DQ. Sin embargo, material hay.
Culmina de esa forma por culpa de Savio Vega. Muy llamativa su rivalidad con Austin.
Savio Vega vs 1-2-3 Kid (w/ Ted Dibiase).
Victoria para el puertorriqueño y así verse fuerte de cara al Strap Match en Beware of Dog, un enfrentamiento al que tengo muchas ganas de ver nuevamente y recordar toda la historia detrás de este evento. Ya se vendrá ese análisis.
Entre medio tenemos un nuevo segmento entre Undertaker y Goldust, con Mankind metiendo al enterrador en un ataúd y propinando golpes con un fierro. Rivalidad a dos bandas del hombre muerto.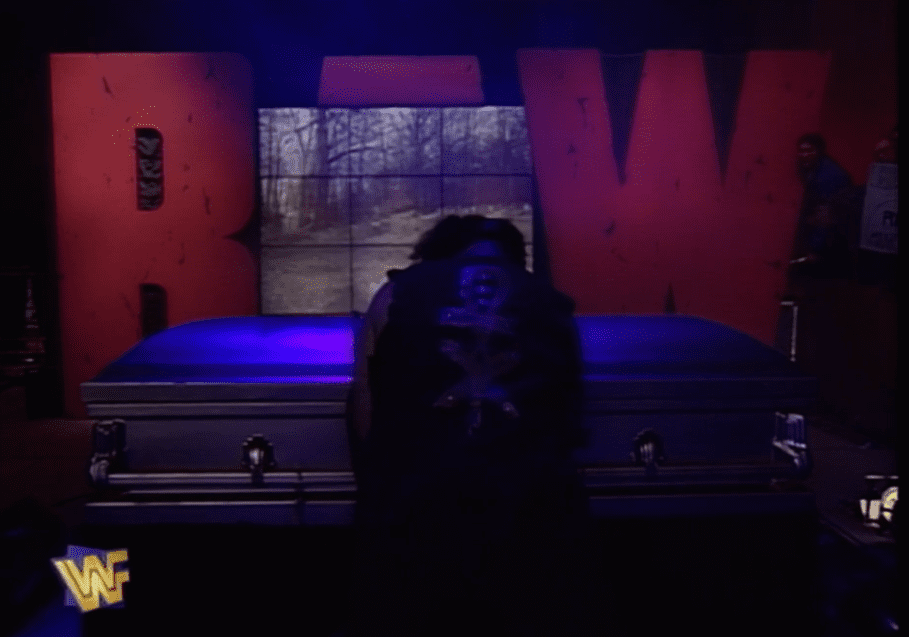 Davey Boy Smith vs Jake Roberts.
Recordemos toda la teleserie con la esposa del Bulldog, pues bien, acá la expulsan de ringside para que Michaels pueda estar en la mesa de comentaristas. Claramente no es la mejor historia que digamos.
La lucha termina en No contest y a nadie le importa porque todo se concentra en HBK y Diana que regresa a encararlo.
Antes que se me olvide, los Bodydonnas perdieron los campeonatos en un house show en el Garden ante The Godwinns, te lo muestran en algún momento.
En líneas generales ambos shows se hacen agradables, con la rivalidad de Austin y Savio robándose las miradas y con Mankind generando mayor interés. En Nitro tenemos un muy buen encuentro que les hace obtener un voto. Me costó, porque el show de WWE estuvo muy decente.
Raw 15 Nitro 18.
Mientras que en PPV´s, el dominio es de WWE:
WWE 5 WCW 1.